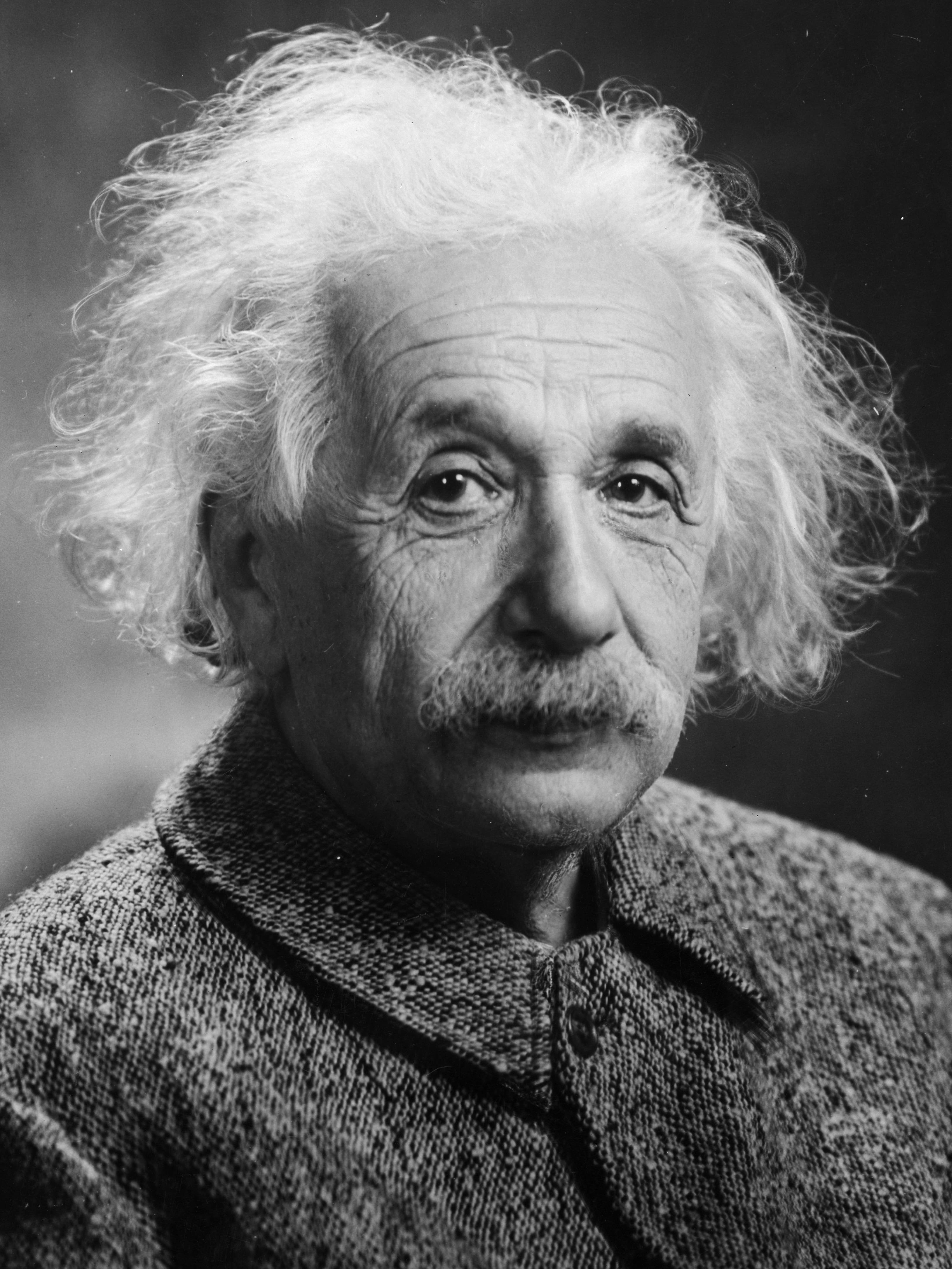 1. OVERVIEW:
Albert Einstein (1879–1955) was a German-born theoretical physicist who developed the theory of general relativity, which created a revolution in physics that still affects us in the 21st century. For this achievement, Einstein is often regarded as the father of modern physics and one of the most prolific intellects in human history. He received the 1921 Nobel Prize in Physics "for his services to theoretical physics, and especially for his discovery of the law of the photoelectric effect". The latter was pivotal in establishing quantum theory within physics.
Near the beginning of his career, Einstein thought that Newtonian mechanics was no longer enough to reconcile the laws of classical mechanics with the laws of the electromagnetic field. This led to the development of his special theory of relativity. He realized, however, that the principle of relativity could also be extended to gravitational fields, and with his subsequent theory of gravitation in 1916, he published a paper on the general theory of relativity. He continued to deal with problems of statistical mechanics and quantum theory, which led to his explanations of particle theory and the motion of molecules. He also investigated the thermal properties of light which laid the foundation of the photon theory of light. In 1917, Einstein applied the general theory of relativity to model the structure of the universe as a whole.
He was visiting the United States when Adolf Hitler came to power in 1933, and did not go back to Germany, where he had been a professor at the Berlin Academy of Sciences. He settled in the U.S., becoming a citizen in 1940. On the eve of World War II, he helped alert President Franklin D. Roosevelt that Germany might be developing an atomic weapon, and recommended that the U.S. begin similar research; this eventually led to what would become the Manhattan Project. Einstein was in support of defending the Allied forces, but largely denounced using the new discovery of nuclear fission as a weapon. Later, together with Bertrand Russell, Einstein signed the Russell–Einstein Manifesto, which highlighted the danger of nuclear weapons. Einstein was affiliated with the Institute for Advanced Study at Princeton, New Jersey, until his death in 1955.
Einstein published more than 300 scientific papers along with over 150 non-scientific works. His great intelligence and originality have made the word "Einstein" synonymous with genius.
2. Early life and education
Albert Einstein was born in Ulm, in the Kingdom of Württemberg in the German Empire on 14 March 1879. His father was Hermann Einstein, a salesman and engineer. His mother was Pauline Einstein (née Koch). In 1880, the family moved to Munich, where his father and his uncle founded Elektrotechnische Fabrik J. Einstein & Cie, a company that manufactured electrical equipment based on direct current.
The Einsteins were non-observant Jews. Albert attended a Catholic elementary school from the age of five for three years. Later, at the age of eight, Einstein was transferred to the Luitpold Gymnasium where he received advanced primary and secondary school education until he left Germany seven years later. Although it has been thought that Einstein had early speech difficulties, this is disputed by the Albert Einstein Archives, and he excelled at the first school that he attended.
His father once showed him a pocket compass; Einstein realized that there must be something causing the needle to move, despite the apparent "empty space". As he grew, Einstein built models and mechanical devices for fun and began to show a talent for mathematics. In 1889, Max Talmud (later changed to Max Talmey) introduced the ten-year old Einstein to key texts in science, mathematics and philosophy, including Immanuel Kant's Critique of Pure Reason and Euclid's Elements (which Einstein called the "holy little geometry book"). Talmud was a poor Jewish medical student from Poland. The Jewish community arranged for Talmud to take meals with the Einsteins each week on Thursdays for six years. During this time Talmud wholeheartedly guided Einstein through many secular educational interests.
In 1894, his father's company failed: direct current (DC) lost the War of Currents to alternating current (AC). In search of business, the Einstein family moved to Italy, first to Milan and then, a few months later, to Pavia. When the family moved to Pavia, Einstein stayed in Munich to finish his studies at the Luitpold Gymnasium. His father intended for him to pursue electrical engineering, but Einstein clashed with authorities and resented the school's regimen and teaching method. He later wrote that the spirit of learning and creative thought were lost in strict rote learning. In the spring of 1895, he withdrew to join his family in Pavia, convincing the school to let him go by using a doctor's note. During this time, Einstein wrote his first scientific work, "The Investigation of the State of Ether in Magnetic Fields".
Einstein applied directly to the Eidgenössische Polytechnische Schule (ETH) in Zurich, Switzerland. Lacking the requisite Matura certificate, he took an entrance examination, which he failed, although he got exceptional marks in mathematics and physics. The Einsteins sent Albert to Aarau (a town in northern Switzerland) to finish secondary school. While lodging with the family of Professor Jost Winteler, he fell in love with Winteler's daughter, Marie. (Einstein's sister Maja later married the Winteler's son, Paul.) In Aarau, Einstein studied Maxwell's electromagnetic theory. At age 17, he graduated, and, with his father's approval, renounced his citizenship in the German Kingdom of Württemberg to avoid military service, and in 1896 he enrolled in the four year mathematics and physics teaching diploma program at the Polytechnic in Zurich. Marie Winteler moved to Olsberg, Switzerland for a teaching post.
Einstein's future wife, Mileva Marić, also enrolled at the Polytechnic that same year, the only woman among the six students in the mathematics and physics section of the teaching diploma course. Over the next few years, Einstein and Marić's friendship developed into romance, and they read books together on physics in which Einstein was taking an increasing interest. In 1900 Einstein was awarded the Zurich Polytechnic teaching diploma, but Marić failed the examination with a poor grade in the mathematics component, theory of functions. There have been claims that Marić collaborated with Einstein on his celebrated 1905 papers, but historians of physics who have studied the issue find no evidence that she made any substantive contributions.
3. Marriages and children
In early 1902, Einstein and Mileva Marić had a daughter they named Lieserl in their correspondence, who was born in Novi Sad where Marić's parents lived. Her full name is not known, and her fate is uncertain after 1903. There is no record of her after 1903.
Einstein and Marić married in January 1903. In May 1904, the couple's first son, Hans Albert Einstein, was born in Bern, Switzerland. Their second son, Eduard, was born in Zurich in July 1910. In 1914, Einstein moved to Berlin, while his wife remained in Zurich with their sons. Marić and Einstein divorced on 14 February 1919, having lived apart for five years. (Hans came to America eventually and became a prominent professor of engineering. Eduard suffered from acute schizophrenia and remained institutionalized for his entire life.)
Einstein married Elsa Löwenthal (née Einstein) on 2 June 1919, after having had a relationship with her since 1912. She was his first cousin maternally and his second cousin paternally. She was a perfect wife--a complete hausfrau who stood aside (grudgingly) when Albert had his relationships with other women. In 1933, they came permanently to the United States. In 1935, Elsa Einstein was diagnosed with heart and kidney problems and died in December 1936.
4. Patent office
After graduating, Einstein spent almost two frustrating years searching for a teaching post, but a former classmate's father helped him secure a job in Bern, at the Federal Office for Intellectual Property, the patent office, as an assistant examiner. He evaluated patent applications for electromagnetic devices. In 1903, Einstein's position at the Swiss Patent Office became permanent, although he was passed over for promotion until he "fully mastered machine technology".
Much of his work at the patent office related to questions about transmission of electric signals and electrical-mechanical synchronization of time, two technical problems that show up conspicuously in the thought experiments that eventually led Einstein to his radical conclusions about the nature of light and the fundamental connection between space and time.
With a few friends he met in Bern, Einstein started a small discussion group, self-mockingly named "The Olympia Academy," which met regularly to discuss science and philosophy. Their readings included the works of Henri Poincaré, Ernst Mach, and David Hume, which influenced his scientific and philosophical outlook.
5. Academic career
In 1901, Einstein had a paper on the capillary forces of a straw published in the prestigious Annalen der Physik. On 30 April 1905, he completed his thesis, with Alfred Kleiner, Professor of Experimental Physics, serving as pro-forma advisor. Einstein was awarded a PhD by the University of Zurich. His dissertation was entitled "A New Determination of Molecular Dimensions". That same year, which has been called Einstein's annus mirabilis or "miracle year," he published four groundbreaking papers, on the photoelectric effect, Brownian motion, special relativity, and the equivalence of matter and energy, which were to bring him to the notice of the academic world.
By 1908, he was recognized as a leading scientist, and he was appointed lecturer at the University of Bern. The following year, he quit the patent office and the lectureship to take the position of physics docent at the University of Zurich. He became a full professor at Karl-Ferdinand University in Prague in 1911. In 1914, he returned to Germany after being appointed director of the Kaiser Wilhelm Institute for Physics (1914–1932) and a professor at the Humboldt University of Berlin, with a special clause in his contract that freed him from most teaching obligations. He became a member of the Prussian Academy of Sciences. In 1916, Einstein was appointed president of the German Physical Society (1916–1918).
In 1911, he had calculated that, based on his new theory of general relativity, light from another star would be bent by the Sun's gravity. That prediction was claimed confirmed by observations made by a British expedition led by Sir Arthur Eddington during the solar eclipse of 29 May 1919. International media reports of this made Einstein world famous. On 7 November 1919, the leading British newspaper The Times printed a banner headline that read: "Revolution in Science – New Theory of the Universe – Newtonian Ideas Overthrown". (Much later, questions were raised whether the measurements had been accurate enough to support Einstein's theory.)
In 1921, Einstein was awarded the Nobel Prize in Physics. Because relativity was still considered somewhat controversial, it was officially bestowed for his explanation of the photoelectric effect. He also received the Copley Medal from the Royal Society in 1925.
6. Travels abroad
Einstein visited New York City for the first time on 2 April 1921, where he received an official welcome by the Mayor, followed by three weeks of lectures and receptions. He went on to deliver several lectures at Columbia University and Princeton University, and in Washington he accompanied representatives of the National Academy of Science on a visit to the White House. On his return to Europe he was the guest of the British statesman and philosopher Viscount Haldane in London, where he met several renowned scientific, intellectual and political figures, and delivered a lecture at Kings College.
In 1922, he traveled throughout Asia and later to Palestine, as part of a six-month excursion and speaking tour. His travels included Singapore, Ceylon, and Japan, where he gave a series of lectures to thousands of Japanese. His first lecture in Tokyo lasted four hours, after which he met the emperor and empress at the Imperial Palace where thousands came to watch. Einstein later gave his impressions of the Japanese in a letter to his sons: "Of all the people I have met, I like the Japanese most, as they are modest, intelligent, considerate, and have a feel for art."
On his return voyage, he also visited Palestine for 12 days in what would become his only visit to that region. "He was greeted with great British pomp, as if he were a head of state rather than a theoretical physicist," writes Isaacson. This included a cannon salute upon his arrival at the residence of the British high commissioner, Sir Herbert Samuel. During one reception given to him, the building was "stormed by throngs who wanted to hear him." In Einstein's talk to the audience, he expressed his happiness over the event: "I consider this the greatest day of my life. Before, I have always found something to regret in the Jewish soul, and that is the forgetfulness of its own people. Today, I have been made happy by the sight of the Jewish people learning to recognize themselves and to make themselves recognized as a force in the world."
7. Emigration from Germany
Einstein was undertaking his third two-month visiting professorship at the California Institute of Technology when Hitler came to power in Germany. On his return to Europe in March 1933 he resided in Belgium for some months, before temporarily moving to England.
In late spring 1933, Einstein decided to emigrate to the United States due to the rise to power of the Nazis. While visiting American universities in April, 1933, he learned that the new German government had passed a law barring Jews from holding any official positions, including teaching at universities. A month later, the Nazi book burnings occurred, with Einstein's works being among those burnt, and Nazi propaganda minister Joseph Goebbels proclaimed, "Jewish intellectualism is dead." Einstein also learned that his name was on a list of assassination targets, with a "$5,000 bounty on his head." One German magazine included him in a list of enemies of the German regime with the phrase, "not yet hanged."
He took up a position at the Institute for Advanced Study at Princeton, New Jersey, an affiliation that lasted until his death in 1955. There, he tried to develop a unified field theory and to refute the accepted interpretation of quantum physics, both unsuccessfully. He and Kurt Gödel, another Institute member, became close friends. They would take long walks together discussing their work with Bruria Kaufman, who later became a renowned physicist.
Other scientists also fled to America. Among them were Nobel laureates and professors of theoretical physics. With so many other Jewish scientists now forced by circumstances to live in America, often working side by side, Einstein wrote to a friend, "For me the most beautiful thing is to be in contact with a few fine Jews—a few millennia of a civilized past do mean something after all." In another letter he writes, "In my whole life I have never felt so Jewish as now."
8. World War II and the Manhattan Project
In 1939, a group of Hungarian scientists that included Hungarian émigré physicist Leó Szilárd attempted to alert Washington of ongoing Nazi atomic bomb research. The group's warnings were discounted.
Einstein and Szilárd, along with other refugees such as Edward Teller and Eugene Wigner, "regarded it as their responsibility to alert Americans to the possibility that German scientists might win the race to build an atomic bomb, and to warn that Hitler would be more than willing to resort to such a weapon." In the summer of 1939, a few months before the beginning of World War II in Europe, Einstein was persuaded to lend his prestige by writing a letter with Szilárd to President Franklin D. Roosevelt to alert him of the possibility. The letter also recommended that the U.S. government pay attention to and become directly involved in uranium research and associated chain reaction research.
The letter is believed to be "arguably the key stimulus for the U.S. adoption of serious investigations into nuclear weapons on the eve of the U.S. entry into World War II". President Roosevelt could not take the risk of allowing Hitler to possess atomic bombs first. As a result of Einstein's letter and his meetings with Roosevelt, the U.S. entered the "race" to develop the bomb, drawing on its "immense material, financial, and scientific resources" to initiate the Manhattan Project. It became the only country to develop an atomic bomb during World War II.
For Einstein, "war was a disease . . . [and] he called for resistance to war." But in 1933, after Hitler assumed full power in Germany, "he renounced pacifism altogether . . . In fact, he urged the Western powers to prepare themselves against another German onslaught." In 1954, a year before his death, Einstein said to his old friend, Linus Pauling, "I made one great mistake in my life — when I signed the letter to President Roosevelt recommending that atom bombs be made; but there was some justification — the danger that the Germans would make them..."
9. U.S. citizenship
Einstein became an American citizen in 1940. Not long after settling into his career at Princeton, he expressed his appreciation of the "meritocracy" in American culture when compared to Europe. According to Isaacson, he recognized the "right of individuals to say and think what they pleased," without social barriers, and as result, the individual was "encouraged" to be more creative, a trait he valued from his own early education. Einstein writes: "What makes the new arrival devoted to this country is the democratic trait among the people. No one humbles himself before another person or class. . . American youth has the good fortune not to have its outlook troubled by outworn traditions."
As a member of the National Association for the Advancement of Colored People NAACP at Princeton who campaigned for the civil rights of African Americans, Einstein corresponded with civil rights activist W. E. B. Du Bois, and in 1946 Einstein called racism America's "worst disease." He later stated, "Race prejudice has unfortunately become an American tradition which is uncritically handed down from one generation to the next. The only remedies are enlightenment and education."
After the death of Israel's first president, Chaim Weizmann, in November 1952, Prime Minister David Ben-Gurion offered Einstein the position of President of Israel, a mostly ceremonial post. The offer was presented by Israel's ambassador in Washington, Abba Eban, who explained that the offer "embodies the deepest respect which the Jewish people can repose in any of its sons." However, Einstein declined, and wrote in his response that he was "deeply moved," and "at once saddened and ashamed" that he could not accept it: "All my life I have dealt with objective matters, hence I lack both the natural aptitude and the experience to deal properly with people and to exercise official function. I am the more distressed over these circumstances because my relationship with the Jewish people became my strongest human tie once I achieved complete clarity about our precarious position among the nations of the world."
10. Death
On 17 April 1955, Albert Einstein experienced internal bleeding caused by the rupture of an abdominal aortic aneurysm, which had previously been reinforced surgically by Dr. Rudolph Nissen in 1948. He took the draft of a speech he was preparing for a television appearance commemorating the State of Israel's seventh anniversary with him to the hospital, but he did not live long enough to complete it. Einstein refused surgery, saying: "I want to go when I want. It is tasteless to prolong life artificially. I have done my share; it is time to go. I will do it elegantly." He died in Princeton Hospital early the next morning at the age of 76, having continued to work until near the end.
During the autopsy, the pathologist of Princeton Hospital, Thomas Stoltz Harvey, removed Einstein's brain for preservation without the permission of his family, in the hope that the neuroscience of the future would be able to discover what made Einstein so intelligent. Einstein's remains were cremated and his ashes were scattered at an undisclosed location.
In his lecture at Einstein's memorial, nuclear physicist Robert Oppenheimer summarized his impression of him as a person: "He was almost wholly without sophistication and wholly without worldliness... There was always with him a wonderful purity at once childlike and profoundly stubborn."
© Adapted from Wikipedia and EINSTEIN by Walter Isaacson. Created 2012, revised 2022.
11. Scientific career
Throughout his life, Einstein published hundreds of books and articles. In addition to the work he did by himself he also collaborated with other scientists on additional projects including the Bose–Einstein statistics, the Einstein refrigerator and others.
A. The Annus Mirabilis Papers (1905) are four articles pertaining to the photoelectric effect (which gave rise to quantum theory), Brownian motion, the special theory of relativity, and E = mc2 that Albert Einstein published in the Annalen der Physik scientific journal in 1905. These four works contributed substantially to the foundation of modern physics and changed views on space, time, and matter.
1. One paper resolved an unsolved puzzle by suggesting energy existed in discrete quanta rather than continuous levels. The theory of quanta was either pivotal to, or gave rise to, quantum theory.
2. Another paper studied empirical evidence for the atom and gave substantial support to the area of statistical physics.
3. A third article reconciled Maxwell's equations for electricity and magnetism with the laws of mechanics by introducing major changes to mechanics close to the speed of light. Among other things, the essay hypothesized that the speed of light was an "upper limit" of velocity.
4. Finally, a fourth paper gave us one of the most famous equations in all science, illustrating the equivalence of matter and energy, E = mc2 (and by implication, the ability of gravity--and matter generally--to "bend" light); the paper also explored the existence of "rest energy" and the basis of nuclear energy (the conversion of matter to energy by humans and in the cosmos).
B. Thermodynamic fluctuations and statistical physics
Einstein did research in 1900 that attempted to interpret atomic phenomena from a statistical point of view. This work was the foundation for the 1905 paper on Brownian motion. These published calculations (1905) showed that Brownian movement can be construed as firm evidence that molecules exist. His research in 1903 and 1904 was mainly concerned with the effect of finite atomic size on diffusion phenomena. [Brownian motion (named after the botanist Robert Brown) or pedesis (from Greek word that means "leaping") is the presumably random drifting of particles suspended in a fluid (a liquid or a gas) or the mathematical model used to describe such random movements, which is often called a particle theory.]
C. General Relativity
Einstein postulated that the time-space frame of a moving body slows down and contracts in the direction of motion relative to the frame of reference of the observer. Einstein's 1905 work on relativity remained controversial for many years, but was accepted by leading physicists, starting with Max Planck.
D. Photons and energy quanta
In a 1905 paper, Einstein postulated that light itself consists of localized particles (quanta). Einstein's light quanta were nearly universally rejected by all physicists, including Max Planck and Niels Bohr. This idea only became universally accepted in 1919, with Robert Millikan's detailed experiments on the photoelectric effect, and with the measurement of Compton scattering.
Einstein concluded that each wave of frequency f is associated with a collection of photons with energy hf each, where h is Planck's constant. He does not say much more, because he is not sure how the particles are related to the wave. But he does suggest that this idea would explain certain experimental results, notably the photoelectric effect.
F. Quantized atomic vibrations
In 1907 Einstein proposed a model of matter where each atom in a lattice structure is an independent harmonic oscillator. In the Einstein model, each atom oscillates independently – a series of equally spaced quantized states for each oscillator. Einstein was aware that getting the frequency of the actual oscillations would be different, but he nevertheless proposed this theory because it was a particularly clear demonstration that quantum mechanics could solve the specific heat problem in classical mechanics. Peter Debye refined this model. In other words, atoms vibrate at specific rates, which would account for boiling water being hotter (and vibrating faster) than cold water or ice.
G. Quantum theory
Throughout the 1910s, quantum mechanics expanded in scope to cover many different systems. After Ernest Rutherford discovered the nucleus and proposed that electrons orbit like planets, Niels Bohr was able to show that the same quantum mechanical postulates introduced by Planck and developed by Einstein would explain the discrete motion of electrons in atoms, and the periodic table of the elements.
© Adapted from Wikipedia and EINSTEIN by Walter Isaacson. Created 2012, revised 2022.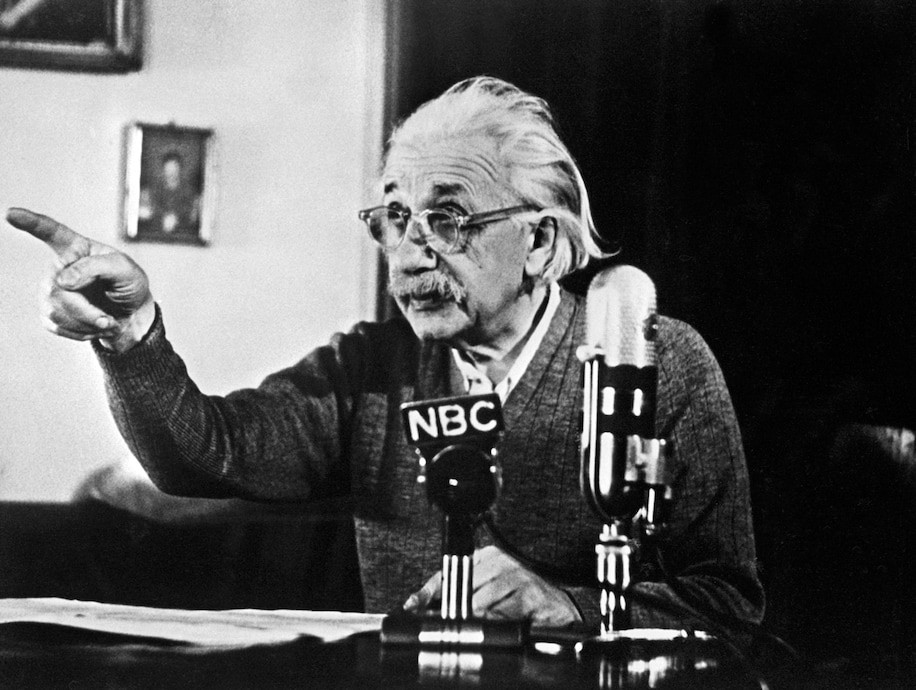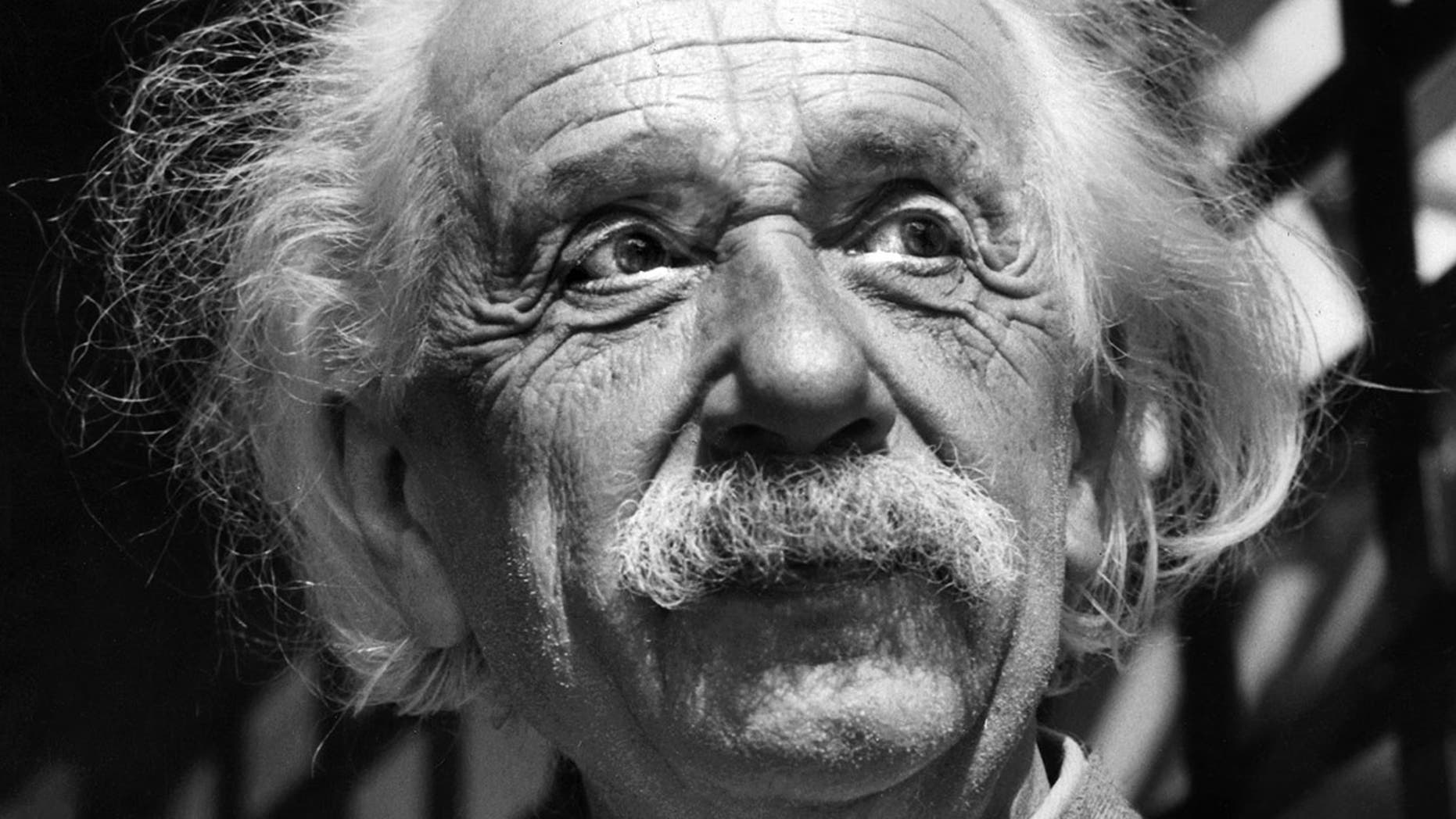 12. General relativity (GR)
General Relativity is a theory of gravitation that was developed by Albert Einstein between 1907 and 1915. According to general relativity, the observed gravitational attraction between masses results from the warping of space and time by those masses. General relativity has developed into an essential tool in modern astrophysics. It provides the foundation for the current understanding of black holes, regions of space where gravitational attraction is so strong that not even light can escape.
13. Cosmology
In 1917, Einstein applied the General theory of Relativity to model the structure of the universe as a whole. He wanted the universe to be eternal and unchanging, but this type of universe is not consistent with relativity. To fix this, Einstein modified the general theory by introducing a new notion, the cosmological constant. With a positive cosmological constant, the universe could be an eternal static sphere.
Einstein believed a spherical static universe is philosophically preferred, because it would obey Mach's principle. He had shown that general relativity incorporates Mach's principle to a certain extent in frame dragging by gravitomagnetic fields, but he knew that Mach's idea would not work if space goes on forever. In a closed universe, he believed that Mach's principle would hold. Mach's principle has generated much controversy over the years.
14. Modern quantum theory
In 1917, at the height of his work on relativity, Einstein published an article in Physikalische Zeitschrift that proposed the possibility of stimulated emission, the physical process that makes possible the maser and the laser. This paper was enormously influential in the later development of quantum mechanics, because it was the first paper to show that the statistics of atomic transitions had simple laws. Einstein discovered Louis de Broglie's work, and supported his ideas, which were received skeptically at first. In another major paper from this era, Einstein gave a wave equation for de Broglie waves, which Einstein suggested was the Hamilton–Jacobi equation of mechanics. This paper would inspire Schrödinger's work of 1926.
15. Bose–Einstein statistics
In 1924, Einstein received a description of a statistical model from Indian physicist Satyendra Nath Bose, based on a counting method that assumed that light could be understood as a gas of indistinguishable particles. Einstein noted that Bose's statistics applied to some atoms as well as to the proposed light particles, and submitted his translation of Bose's paper to the Zeitschrift für Physik. Einstein also published his own articles describing the model and its implications, among them the Bose–Einstein condensate phenomenon that some particulates should appear at very low temperatures. It was not until 1995 that the first such condensate was produced experimentally by Eric Allin Cornell and Carl Wieman using ultra-cooling equipment built at the NIST–JILA laboratory at the University of Colorado at Boulder. Bose–Einstein statistics are now used to describe the behaviors of any assembly of bosons. Einstein's sketches for this project may be seen in the Einstein Archive in the library of the Leiden University.
16. Wormholes
Einstein collaborated with others to produce a model of a wormhole. A wormhole is a hypothetical feature of spacetime that would be, fundamentally, a "shortcut" through spacetime. For a simple visual explanation of a wormhole, consider spacetime visualized as a two-dimensional (2D) surface like a piece of paper with an "x" on one edge and a "y" on the other. If this surface is folded, it allows one to picture a wormhole "bridge"—the "x" and the "y" would touch, cutting out the intermediate distance. A wormhole is, in theory, much like a tunnel with two ends each in separate points in space-time. Einstein also hypothesized that if one end of a wormhole was positively charged, the other end would be negatively charged.
17. Einstein refrigerator
In 1926, Einstein and his former student Leó Szilárd co-invented (and in 1930, patented) the Einstein refrigerator. This absorption refrigerator was then revolutionary for having no moving parts and using only heat as an input. On 11 November 1930, U.S. Patent 1,781,541 was awarded to Albert Einstein and Leó Szilárd for the refrigerator. Their invention was not immediately put into commercial production, as the most promising of their patents were quickly bought up by the Swedish company Electrolux to protect its refrigeration technology from competition.
18. Bohr versus Einstein
The Bohr–Einstein debates were a series of public disputes about quantum mechanics between Albert Einstein and Niels Bohr who were two of its founders. Their debates are remembered because of their importance to the philosophy of science.
19. Political and religious views
Albert Einstein's political views emerged publicly in the middle of the 20th century due to his fame and reputation for genius. Einstein was called on to give judgments and opinions on matters often unrelated to theoretical physics or mathematics.
Einstein's views on religious belief have been collected from interviews and original writings. These views covered theological determinism, agnosticism, humanism along with ethical culture, opting for Spinoza's god over belief in a personal god.
While travelling, Einstein wrote daily to his wife Elsa and adopted stepdaughters Margot and Ilse. The letters were included in the papers bequeathed to The Hebrew University. Margot Einstein permitted the personal letters to be made available to the public, but requested that it not be done until twenty years after her death (she died in 1986). Barbara Wolff, of The Hebrew University's Albert Einstein Archives, told the BBC that there are about 3,500 pages of private correspondence written between 1912 and 1955.
Einstein bequeathed the royalties from use of his image to The Hebrew University of Jerusalem. Corbis, successor to The Roger Richman Agency, licenses the use of his name and associated imagery, as agent for the university.
© Adapted from Wikipedia and EINSTEIN by Walter Isaacson. Created 2012, revised 2022.
Albert Einstein's religious views
Albert Einstein's religious views have been studied due to his sometimes apparently ambiguous statements and writings on the subject. He believed the God of Spinoza, but not in a personal God, a belief which he criticized.
1. Nature of his belief
On 24 April 1929, Einstein cabled Rabbi Herbert S. Goldstein in German: "I believe in Spinoza's God, who reveals himself in the harmony of all that exists, not in a God who concerns himself with the fate and the doings of mankind."
In a 1950 letter to M. Berkowitz, Einstein stated that "My position concerning God is that of an agnostic. I am convinced that a vivid consciousness of the primary importance of moral principles for the betterment and ennoblement of life does not need the idea of a law-giver, especially a law-giver who works on the basis of reward and punishment." Einstein as an "agnostic" has been referred to as an agnostic theist, sometimes called as a form of deism or pantheism. Einstein referred to his belief system as "cosmic religion", and authored an eponymous article on the subject in 1954 which became a book in 1955. The belief system recognized a "miraculous order which manifests itself in all of nature as well as in the world of ideas", rejected a personal deity who rewards and punishes, rejected a conflict between science and religion, and moreover held that cosmic religion was necessary for science. "God," he says, "is a mystery. But a comprehensible mystery. I have nothing but awe when I observe the laws of nature. There are not laws without a lawgiver, but how does this lawgiver look? Certainly not like a man magnified."
2. Disbelief in a personal god and rejection of atheism
Einstein also stated: "I have repeatedly said that in my opinion the idea of a personal God is a childlike one. You may call me an agnostic, but I do not share the crusading spirit of the professional atheist whose fervor is mostly due to a painful act of liberation from the fetters of religious indoctrination received in youth. I prefer an attitude of humility corresponding to the weakness of our intellectual understanding of nature and of our own being." According to Hubertus, Prince of Löwenstein-Wertheim-Freudenberg, Einstein said, "In view of such harmony in the cosmos which I, with my limited human mind, am able to recognize, there are yet people who say there is no God. But what really makes me angry is that they quote me for the support of such views."
Attempts by the press to present Albert Einstein as a conventionally religious man provoked a self-made man from New Jersey, J. Dispentiere, to write to Einstein on 22 March 1954. He declared himself an atheist and expressed doubts as to the accuracy of what he had read about Einstein's beliefs. Einstein answered forthwith on 24 March 1954:
It was, of course, a lie what you read about my religious convictions, a lie which is being systematically repeated. I do not believe in a personal God and I have never denied this but have expressed it clearly. If something is in me which can be called religious then it is the unbounded admiration for the structure of the world so far as our science can reveal it.
In his 1949 book The World as I See It, he wrote: "A knowledge of the existence of something we cannot penetrate, of the manifestations of the profoundest reason and the most radiant beauty, which are only accessible to our reason in their most elementary forms—it is this knowledge and this emotion that constitute the truly religious attitude; in this sense, and in this alone, I am a deeply religious man."
In a letter to Eric Gutkind dated 3 January 1954, Einstein wrote in German:
[...] The word God is for me nothing more than the expression and product of human weaknesses, the Bible a collection of honourable, but still primitive legends which are nevertheless pretty childish. No interpretation no matter how subtle can (for me) change this. These [...] interpretations are highly manifold according to their nature and have almost nothing to do with the original text. For me the Jewish religion like all other religions is an incarnation of the most childish superstitions. And the Jewish people to whom I gladly belong and with whose mentality I have a deep affinity have no different quality for me than all other people. As far as my experience goes, they are also no better than other human groups, although they are protected from the worst cancers by a lack of power. Otherwise I cannot see anything 'chosen' about them.
Einstein had previously explored this belief that man could not understand the nature of God in an interview published in 1930 in G. S. Viereck's book Glimpses of the Great explaining: "I'm absolutely not an atheist. I don't think I can call myself a pantheist. The problem involved is too vast for our limited minds. We are in the position of a little child entering a huge library filled with books in many languages. The child knows someone must have written those books. It does not know how. It does not understand the languages in which they are written. The child dimly suspects a mysterious order in the arrangement of the books but doesn't know what it is. That, it seems to me, is the attitude of even the most intelligent human being toward God. We see the universe marvelously arranged and obeying certain laws but only dimly understand these laws. Our limited minds grasp the mysterious force that moves the constellations. I am fascinated by Spinoza's pantheism, but admire even more his contribution to modern thought because he is the first philosopher to deal with the soul and body as one, and not two separate things."
Nonetheless, Einstein was more inclined to denigrate disbelievers than the faithful. "The fanatical atheists," he said in correspondence, "are like slaves who are still feeling the weight of their chains which they have thrown off after hard struggle. They are creatures who--in their grudge against traditional religion as the 'opium of the masses'-- cannot hear the music of the spheres." Although he did not believe in a personal God, he indicated that he would never seek to combat such belief because "such a belief seems to me preferable to the lack of any transcendental outlook".
3. Three styles of religious belief
In a 1930 New York Times article, Einstein distinguished three styles which are usually intermixed in actual religious belief. A poor understanding of causality causes fear, and the fearful invent supernatural beings. The desire for love and support create a social and moral need for a supreme being; both these styles have an anthropomorphic concept of God. The third style, which Einstein deemed most mature, originates in a deep sense of awe and mystery. He said, "The individual feels [...] the sublimity and marvelous order which reveal themselves in nature [...] and he wants to experience the universe as a single significant whole." Einstein saw science as an antagonist of the first two styles of religious belief, but as a partner of the third style. As he wrote later, "[E]ven though the realms of religion and science in themselves are clearly marked off from each other" there are "strong reciprocal relationships and dependencies [...] science without religion is lame, religion without science is blind [...] a legitimate conflict between science and religion cannot exist."
4. Humanism and Ethical Culture
Einstein was also a Humanist and a supporter of Ethical Culture. He served on the advisory board of the First Humanist Society of New York. For the seventy-fifth anniversary of the New York Society for Ethical Culture, he noted that the idea of Ethical Culture embodied his personal conception of what is most valuable and enduring in religious idealism. He observed, "Without 'ethical culture' there is no salvation for humanity." He was an honorary associate of the British Humanist organisation, the Rationalist Press Association and its journal was among the items present on his desk at his death.
5. Enlightenment and liberation
Einstein published a paper in Nature in 1940 entitled "Science and Religion" in which he wrote: [...] a person who is religiously enlightened appears to me to be one who has, to the best of his ability, liberated himself from the fetters of his selfish desires and is preoccupied with thoughts, feelings and aspirations to which he clings because of their super-personal value [...] regardless of whether any attempt is made to unite this content with a Divine Being, for otherwise it would not be possible to count Buddha and Spinoza as religious personalities. Accordingly a religious person is devout in the sense that he has no doubt of the significance of those super-personal objects and goals which neither require nor are capable of rational foundation [...] In this sense religion is the age-old endeavour of mankind to become clearly and completely conscious of these values and goals, and constantly to strengthen their effects." He argued that conflicts between science and religion "have all sprung from fatal errors".
An understanding of causality was fundamental to religious belief. In Einstein's view, "neither the rule of human nor Divine Will exists as an independent cause of natural events. To be sure, the doctrine of a personal God interfering with natural events could never be refuted [...] by science, for [it] can always take refuge in those domains in which scientific knowledge has not yet been able to set foot.
6. Jews, Christianity, and Jesus
In an interview published by Time magazine, with George Sylvester Viereck, Einstein spoke of his feelings about Christianity. Viereck was a Nazi sympathizer who was jailed in America during WW II for being a German propagandist. But at the time of the interview Einstein thought Viereck was Jewish.
Viereck began by asking Einstein if he considered himself a German or a Jew, to which Einstein responded that it was possible to be both. Einstein further elaborated that he considered nationalism to be "the measles of mankind."
Viereck moved along in the interview to ask Einstein if Jews should try to assimilate, to which Einstein replied that, "We Jews have been too eager to sacrifice our idiosyncrasies in order to conform."
Einstein was then asked to what extent he was influenced by Christianity, to which Einstein replied as follows, "As a child I received instruction both in the Bible and in the Talmud. I am a Jew, but I am enthralled by the luminous figure of the Nazarene."
Einstein was then asked if he accepted the "historical existence of Jesus," to which he replied, "Unquestionably! No one can read the Gospels without feeling the actual presence of Jesus. His personality pulsates in every word. No myth is filled with such life."
7. The Catholic Church
The only Jewish school in Munich had been closed in 1872 for want of students, and in the absence of an alternative Einstein attended Catholic elementary school. He also received Jewish religious education at home, but he did not see a cleave between the two, impressed by the sameness of them, both the Passion of Jesus and the stories of the Jewish Bible. According to a biographer, Walter Isaacson, Einstein immensely enjoyed the Catholic religion courses which he received at the school. The teachers at his school were liberal and generally made no distinction between student's religions, but some harbored an innate but mild anti-Semitism. Einstein later recalled an incident involving a teacher who, ironically, particularly liked him: "One day that teacher brought a long nail to the lesson and told the students that with such nails Christ had been nailed to the Cross by the Jews" and that "Among the children at the elementary school anti-Semitism was prevalent...Physical attacks and insults on the way home from school were frequent, but for the most part not too vicious." Regarding the incident he noted: "That was at a Catholic school; how much worse the anti-Semitism must be in other Prussian schools, one can only imagine." He would later in life recall that "The religion of the fathers, as I encountered it in Munich during religious instruction and in the synagogue, repelled rather than attracted me."
In the 1940s Time magazine quoted Einstein lauding "the Church", not "the Catholic Church", for its role in opposing the Nazis, the quote since being repeatedly cited by defenders of Pope Pius XII. He was quoted rather extensively by the newsweekly as saying that "the Church" was the only notable institution that stood against the rise of the Third Reich and its campaign to suppress truth. An investigation of the quote by mathematician William C. Waterhouse and Barbara Wolff of the Einstein Archives in Jerusalem found that the statement was mentioned in an unpublished letter from 1947. In the letter to Count Montgelas, Einstein explained that the original comment was a casual one made to a journalist regarding the support of "a few churchmen" for individual rights and intellectual freedom during the early rule of Hitler and that, according to Einstein, the comment had been drastically exaggerated. In 2008 American television broadcast a program that displayed a letter from Einstein in which he gives his comments about how Time Magazine had quoted him.[27] Regardless of the validity of the quote, Einstein has been quoted as making various statements about "the Church" in general and the Catholic Church in particular:
Einstein stared at me with his large brown eyes, "The [Roman Catholic] Center Party? When you learn the history of the Catholic Church, you wouldn't trust the Center Party. Hasn't Hitler promised to smash the Bolsheviks in Russia? The Church will bless its Catholic soldiers to march alongside the Nazis" (March 1930)
"I predict that the Vatican will support Hitler if he comes to power. The Church since Constantine has always favoured the authoritarian State, as long as the State allows the Church to baptize and instruct the masses." (March 1930)
"So often in history the Jews have been the instigators of justice and reform whether in Spain, Germany or Russia. But no sooner have they done their job than their 'friends', often blessed by the Church, spit in their faces." (August 1943)
"There are cosmic laws, Dr. Hermanns. They cannot be bribed by prayers or incense...This power maneuver of the [Roman Catholic] Church, these Concordats through the centuries with worldly powers..the Church has to pay for it." (August 1943)
"But what makes me shudder is that the Catholic Church is silent. One doesn't need to be a prophet to say, 'The Catholic Church will pay for this silence...I do not say that the unspeakable crimes of the Church for 2,000 years had always the blessing of the Vatican, but it vaccinated its believers with the idea: We have the true God, and the Jews have crucified Him.' The Church sowed hate instead of love, though the ten commandments state: Thou shalt not kill" (August 1943)
"With a few exceptions, the Roman Catholic Church has stressed the value of dogma and ritual, conveying the idea theirs is the only way to reach heaven. I don't need to go to Church to hear if I'm good or bad; my heart tells me this". (August 1943)
"I don't like to implant in youth the Church's doctrine of a personal God, because that Church has behaved so inhumanly in the past 2,000 years...Consider the hate the Church manifested against the Jews and then against the Muslims, the Crusades with their crimes, the burning stakes of the inquisition, the tacit consent of Hitler's actions while the Jews and the Poles dug their own graves and were slaughtered. And Hitler is said to have been an altar boy!" (August 1943)
"Yes" Einstein replied vehemently, "It is indeed human, as proved by Cardinal Pacelli (the future Pope Pius XII), who was behind the Concordat with Hitler. Since when can one make a pact with Christ and Satan at the same time?" (August 1943)
"The Church has always sold itself to those in power, and agreed to any bargain in return for immunity." (August 1943)
"If I were allowed to give advice to the Churches," Einstein continued, "I would tell them to begin with a conversion among themselves, and to stop playing power politics. Consider what mass misery they have produced in Spain, South America and Russia." (September 1948)
In response to a Catholic convert who asked "Didn't you state that the Church was the only opponent of Communism?" Einstein replied "I don't have to emphasise that the Church at last became a strong opponent of National Socialism, as well" (Einstein's secretary Helen Dukas added "Dr. Einstein didn't mean only the Catholic church, but all churches.") When the convert mentioned that family members had been gassed by the Nazis Einstein replied that "he also felt guilty --adding that the whole Church, beginning with the Vatican, should feel guilt." (September 1948).
"Hah! About God, I cannot accept any concept based on the authority of the Church...As long as I can remember. I have resented mass indoctrination. I cannot prove to you there is no personal God, but if I were to speak of him, I would be a liar. I do not believe in the God of theology who rewards good and punishes evil. His universe is not ruled by wishful thinking, but by immutable laws".(1954) William Miller of Life Magazine who was present at this meeting described Einstein as looking like a "living saint" and speaking with "angelic indifference".
Catholic Cardinal William Henry O'Connell made a "public blast" at Einstein's perceived lack of belief: "The outcome of this doubt and befogged speculation about time and space is a cloak beneath which hides the ghastly apparition of atheism." A Bronx Rabbi criticized both the Cardinal and the scientist for opining on matters outside their expertise: "Both have handed down dicta outside their jurisdiction."[41] The Catholic priest and broadcaster Fulton Sheen, whose intellect Einstein admired (even calling him "one of the most intelligent people in today's world"), described the 1930 New York Times article on Einstein's idea of a Cosmic Religion as "the sheerest kind of stupidity and nonsense."
© Adapted from Wikipedia and EINSTEIN by Walter Isaacson. Created 2012, revised 2022.
Einstein was a prominent supporter of both Labor Zionism and efforts to encourage Jewish-Arab cooperation. He initially supported the creation of a Jewish national homeland in the British mandate of Palestine but was initially opposed to the idea of a Jewish state with borders, an army, and a measure of temporal power."
Fred Jerome in his Einstein on Israel and Zionism: His Provocative Ideas About the Middle East argues that Einstein was a Cultural Zionist who supported the idea of a Jewish homeland but opposed the establishment of a Jewish state in Palestine preferring a bi-national state with "continuously functioning, mixed, administrative, economic, and social organizations." In 1931, The Macmillan Company published About Zionism: Speeches and Lectures by Professor Albert Einstein. Querido, an Amsterdam publishing house, collected eleven of Einstein's essays into a 1933 book entitled Mein Weltbild, translated to English as The World as I See It; Einstein's foreword dedicates the collection "to the Jews of Germany". In the face of Germany's rising militarism, Einstein wrote and spoke for peace.
Einstein publicly stated reservations about the proposal to partition the British-supervised British Mandate of Palestine into independent Arab and Jewish countries. In a 1938 speech, "Our Debt to Zionism", he said: "I should much rather see reasonable agreement with the Arabs on the basis of living together in peace than the creation of a Jewish state. My awareness of the essential nature of Judaism resists the idea of a Jewish state with borders, an army, and a measure of temporal power, no matter how modest. I am afraid of the inner damage Judaism will sustain—especially from the development of a narrow nationalism within our own ranks, against which we have already had to fight strongly, even without a Jewish state. ... If external necessity should after all compel us to assume this burden, let us bear it with tact and patience."
In a 1947 letter to Indian Prime Minister Jawaharlal Nehru intended to persuade India to support the establishment of a Jewish state, Einstein stated that the Balfour Declaration's proposal to establish a national home for Jews in Palestine "redresses the balance" of justice and history.
The United Nations did divide the mandate, demarcating the borders of several new countries including the State of Israel, and war broke out immediately. Einstein was one of the authors of an open letter to the New York Times in 1948 criticizing Menachem Begin's Herut (Freedom) Party for the Deir Yassin massacre (Einstein et al. 1948).When President Harry Truman recognized Israel in May 1948, Einstein declared it "the fulfillment of our(Jewish) dreams." Einstein also supported vice president Henry Wallace's Progressive Party during 1948 Presidential election which also advocate pro-Soviet and pro-Israel foreign policy.
Einstein served on the Board of Governors of The Hebrew University of Jerusalem. In his Will of 1950, Einstein bequeathed literary rights to his writings to The Hebrew University, where many of his original documents are held in the Albert Einstein Archives.
When President Chaim Weizmann died in 1952, Einstein was asked to be Israel's second president, but he declined, stating that he had "neither the natural ability nor the experience to deal with human beings." He wrote: "I am deeply moved by the offer from our State of Israel, and at once saddened and ashamed that I cannot accept it."
© Adapted from Wikipedia and EINSTEIN by Walter Isaacson. Created 2012, revised 2022.
Mileva Marić
was born into a wealthy family on December 19, 1875 in Titel in the Austro-Hungarian Monarchy (today Serbia) as the eldest of three children of Miloš Marić (1846–1922) and Marija Ružić - Marić (1847–1935). Shortly after her birth, her father ended his military career and took a job at the court in Ruma and later in Zagreb. She began her secondary education in 1886 at a high school for girls in Novi Sad, but changed the following year to a high school in Sremska Mitrovica. Beginning in 1890, she attended The Royal Serbian Grammar School in Šabac. In 1891 her father obtained special permission to enroll Marić as a private student at the all male Royal Classical High School in Zagreb. She passed the entrance exam and entered the tenth grade in 1892. She won special permission to attend physics lectures in February 1894 and passed the final exams in September 1894. Her grades in mathematics and physics were the highest awarded. That year she fell seriously ill and decided to move to Switzerland, where on the 14th November she started at the "Girls High School" in Zurich. In 1896, Marić passed her Matura-Exam, and started studying medicine at the University of Zurich for one semester. In the autumn of 1896, Marić switched to the Zurich Polytechnic (later Eidgenössische Technische Hochschule [ETH]), having passed the mathematics entrance examination with an average grade of 4.25 (scale 1-6). She enrolled for the diploma course to teach physics and mathematics in secondary schools (section VIA) at the same time as Albert Einstein. She was the only woman in her group of six students, and only the fifth woman to enter that section. She and Einstein became close friends quite soon.
In October Marić went to Heidelberg to study at Heidelberg University for the winter semester 1897/98, attending physics and mathematics lectures as an auditor.[9] She rejoined the Zurich Polytechnic in April 1898, where her studies included the following courses: differential and integral calculus, descriptive and projective geometry, mechanics, theoretical physics, applied physics, experimental physics, and astronomy. Marić sat the intermediate diploma examinations in 1899, one year later than the other students in her group. Her grade average of 5.05 (scale 1-6) placed her fifth out of the six students taking the examinations that year. (Einstein had come top of the previous year's candidates with a grade average of 5.7. Marić's grade in physics was 5.5, the same as Einstein's.) In 1900 Marić failed the final teaching diploma examinations with a grade average of 4.00, having obtained only grade 2.5 in the mathematics component (theory of functions). Einstein passed the exam in fourth place with a grade average of 4.91.
Marić's academic career was disrupted in 1901 when she became pregnant by Einstein. When three months pregnant, she resat the diploma examination, but failed for the second time without improving her grade. She also discontinued work on her diploma dissertation that she had hoped to develop into a Ph.D. thesis under the supervision of the physics professor Heinrich Weber. She went to Novi Sad, where her daughter, referred to as Lieserl, was born in 1902, probably in January. Her fate is unknown: she may have died in late summer 1903, or been given up for adoption.
In 1903 Marić and Einstein married in Bern, Switzerland, where Einstein had found a job at the Federal Office for Intellectual Property. In 1904 their first son Hans Albert was born. The Einsteins lived in Bern until 1909, when Einstein got a teaching position at the University of Zürich. In 1910 their second son Eduard was born. In 1911 they moved to Prague, where Einstein held a teaching position at the Charles University. A year later, they returned to Zurich, as Einstein had accepted a professorship at his alma mater. In July 1913 Max Planck and Walther Nernst asked Einstein to agree to come to Berlin, which he did, but which caused Marić distress. In August the Einsteins took a walking holiday with their son Hans Albert, Marie Curie and her two daughters, but Marić was delayed temporarily due to Eduard's illness. In September the Einsteins visited Marić's parents near Novi Sad, and on the day they were to leave for Vienna Marić had her sons baptised as Orthodox Christians. After Vienna Einstein visited relatives in Germany while Marić returned to Zurich. After Christmas she traveled to Berlin to stay with Fritz Haber who helped her look for accommodation for the Einsteins' impending move in April 1914. The Einsteins both left Zurich for Berlin in late March, on the way Einstein visited an uncle in Antwerp and then Ehrenfest and Lorentz in Leiden while Marić took a holiday with the children in Locarno, arriving in Berlin in mid-April.
The marriage had been in difficulties since 1912, in the spring of which Einstein became reacquainted with his cousin Elsa Löwenthal (née Einstein), following which they began a regular correspondence. Marić, who had never wanted to go to Berlin, became increasingly unhappy in the city. Soon after settling in Berlin, Einstein insisted on harsh terms if she were to remain with him. In the summer of 1914, Marić took the boys back to Zurich, a move that was to become permanent. Einstein made a commitment, drawn up by a lawyer, to send her an annual maintenance of 5600 Reichsmarks in quarterly instalments, just under half of his salary. The couple divorced, rather ironically, on February 14--Valentine's Day--of 1919. They had negotiated a settlement whereby the Nobel Prize money that Einstein anticipated he would soon receive was to be placed in trust for their two boys, while Marić would be able to draw on the interest, but have no authority over the capital without Einstein's permission, After Einstein married his second wife in June, he returned to Zurich to talk to Marić about the children's future, taking Hans Albert on Lake Constance and Eduard to Arosa for convalescence.
In 1922, Einstein received news that he had won the Nobel Prize in November and the money was transferred to Marić in 1923. The money was used to buy three houses in Zurich: Marić lived in one, a five story house at Huttenstrasse 62, the other two were investments. The family of Georg Busch, later to become Professor at the ETH, was one of her tenants. In the late 1930s the costs of Eduard's care—he had been diagnosed with schizophrenia and institutionalized at the University of Zurich psychiatric clinic "Burghölzli"—overwhelmed Marić and resulted in the forced sale of two of the houses. In 1939 Marić agreed to transfer ownership of the Huttenstrasse house to Einstein in order to prevent its loss as well, with Marić retaining power of attorney. Einstein also made regular cash transfers to Marić for Eduard's and her own livelihood.
Marić died at the age of 72 on August 4, 1948 in Zurich, and was buried at Nordheim-Cemetery.
ROLE IN PHYSICS
The question whether (and if so, to what extent) Marić contributed to Einstein's early work, and to the Annus Mirabilis Papers in particular, has been the subject of some debate. A consensus among professional historians of physics is that she made no significant scientific contribution. Some academics have argued that she was a supportive companion in science and may have helped him materially in his research.
The case which has been presented for Marić as a co-author of some of Einstein's early work, putatively culminating in the 1905 papers, mostly depends on the following evidence:
• The testimony of the well known Russian physicist Abram Joffe, who gave the name of the author of the three Annus Mirabilis Papers as Einstein-Marity, erroneously attributing the addition of the name Marity, Marić's official name, to a non-existing Swiss custom. However, in the paragraph in question, in which Joffe stated that Einstein's entrance into the arena of science in 1905 was "unforgettable", he described the author (singular) of the 1905 papers as "a bureaucrat at the Patent Office in Bern", i.e., Albert Einstein.
• An alleged comment from Mileva to a Serbian friend, which, referring to 1905, said "we finished some important work that will make my husband world famous", although such reminiscences have been described as "hometown folklore."
• Letters in which Einstein referred to "our" theory and "our" work. John Stachel points out, that these letters were written in their student days, at least four years before the 1905 papers, and some of the instances in which Einstein used "our" in relation to scientific work refer to their diploma dissertations, for which they both chose the same topic (experimental studies of heat conduction), and that Einstein used "our" in rather general statements, while he invariably used "I" and "my" when he recounted specific ideas he was working on: "the letters to Marić show Einstein referring to his studies, his work on the electrodynamics of moving bodies over a dozen times... as compared to one reference to our work on the problem of relative motion." In two cases where there are surviving letters from Marić in direct reply to ones from Einstein in which he had recounted his latest ideas, she gives no response at all. Her letters, in contrast to Einstein's, contain only personal matters, or comments related to her Polytechnic coursework. Stachel writes: "In her case we have no published papers, no letters with a serious scientific content, either to Einstein nor to anyone else; nor any objective evidence of her supposed creative talents. We do not even have hearsay accounts of conversations she had with anyone else that have a specific, scientific content, let alone claiming to report her ideas."
• The divorce agreement in which Einstein promised her his Nobel Prize money. However, Einstein made this proposal to persuade a reluctant Marić to agree to divorce him, and under the terms of the agreement the money was to be held in trust for their two boys, while she was able to draw on the interest. Based on newly released letters (sealed by Einstein's stepgranddaughter Margot Einstein until 20 years after her death), Walter Isaacson reported that Marić eventually invested the Nobel Prize money in three apartment buildings in Zurich.
There are no strong arguments to support the idea that Marić helped Einstein to develop his theories. The couple's own son, Hans Albert, stated that on marrying Einstein, his mother gave up her scientific ambitions. Einstein remained an extremely fruitful scientist well into the 1920s, producing work of the greatest importance long after separating from Marić in 1914. She, on the other hand, never published anything, and Marić was never mentioned as having been involved with his work by the friends and colleagues of Einstein, who engaged in countless discussions of his ideas with him. And perhaps most notably, Marić herself never claimed that she had ever played any role in Einstein's scientific work, nor even hinted at any such role in personal letters to her closest friend Helene Savić.
-----------------------------------------------
Elsa Einstein
(January 18, 1876 – December 20, 1936) was a German cousin and the second wife of Albert Einstein. Elsa had the surname of Einstein at birth, lost it when she took the name of her first husband Max Löwenthal, and regained it in 1919 when she married her cousin Albert.
Elsa, the daughter of Rudolf Einstein, was born in Hechingen in January 1876. She had two sisters; Paula (c. 1878–c. 1955) and Hermine (1872–1942). Rudolf was a textile manufacturer in Hechingen. During the regular visits with the family in Munich, she often played with her cousin Albert. In her Swabian dialect, she called him "Albertle". The two parted ways in 1894, when Albert left Germany to follow his family to Milan.
In 1896, Elsa married textile trader Max Löwenthal (1864–1914), from Berlin, with whom she had three children: daughters Ilse and Margot and a son who was born and died in 1903. They lived together in Hechingen. In 1902, Max Löwenthal took a job in Berlin. His family stayed in Hechingen. She divorced Max on May 11, 1908, and moved with her two daughters to an apartment above her parents on Haberlandstrasse 5, in Berlin.
She began a relationship with her cousin Albert Einstein at Easter 1912, while Albert was still married to his first wife, the physicist Mileva Marić. Einstein's divorce from Maric was final on February 14, 1919, and Elsa married him three and a half months later, on June 2, 1919. Einstein often had affairs; between the mid-1920s and his emigration to the United States in 1933, he had affairs with women named Margarete, Estella, and Ethel, and two women both named Toni.
Elsa's and Albert's mothers were sisters, which made Elsa and Albert first cousins, and their fathers were first cousins. Ilse and Margot, Albert Einstein's first cousins once removed, had already changed their surname to Einstein and were now also his stepdaughters.
With daughters Ilse and Margot, the Einsteins formed a close-knit family. Although Albert and Elsa did not have any children of their own, Albert raised Ilse and Margot as his own. They lived in the Berlin area, also having a summer house in Caputh in nearby Potsdam.
Elsa spent most of her marriage with Albert acting as gatekeeper, protecting him from unwelcome visitors and charlatans. She also was the driving force building their summer house in 1929.
In 1933, Albert and Elsa Einstein emigrated to Princeton, New Jersey, USA. In autumn 1935, they moved to a house at 112 Mercer Street, bought that August, but shortly afterwards Elsa developed a swollen eye and was diagnosed with heart and kidney problems. Elsa died after a painful illness on December 20, 1936, in the house on Mercer Street.
© Adapted from Wikipedia and EINSTEIN by Walter Isaacson. Created 2012, revised 2022.
1. Lieserl Einstein
(born January, 1902 – last mentioned in 1903; date of death unknown) was the first child of Mileva Marić and Albert Einstein.
According to the correspondence between her parents, "Lieserl" was born in January, 1902, a year before her parents married, in Novi Sad, Vojvodina, present day Serbia, and was cared for by her mother for a short time while Einstein worked in Switzerland before Marić joined him there without the child.
"Lieserl's" existence was unknown to biographers until 1986, when a batch of letters between Albert and Mileva were discovered by Hans Albert Einstein's daughter Evelyn.
Marić had hoped for a girl, while Einstein would have preferred a boy. In their letters, they called the unborn child "Lieserl", when referring to a girl, or "Hanserl", if a boy. Both "Lieserl" and "Hanserl" were diminutives of the common German names Liese and Hans.
The first reference to Marić's pregnancy was found in a letter Einstein wrote to her from Winterthur, probably on May 28, 1901 (letter 36), asking twice about "the boy" and "our little son", whereas Marić's first reference was found in her letter of November 13, 1901 (letter 43) from Stein am Rhein, in which she referred to the unborn child as "Lieserl". Einstein goes along with Marić's wish for a daughter, and referred to the unborn child as "Lieserl" as well, but with a sense of humour as in letter 45 of December 12, 1901 "... and be happy about our Lieserl, whom I secretly (so Dollie doesn't notice) prefer to imagine a Hanserl."
The child must have been born shortly before February 4, 1902, when Einstein wrote: "... now you see that it really is a Lieserl, just as you'd wished. Is she healthy and does she cry properly? [...] I love her so much and don't even know her yet!"
The last time "Lieserl" was mentioned in their extant correspondence was in Einstein's letter of September 19, 1903 (letter 54), in which he showed concern for her suffering from scarlet fever. His asking "as what is the child registered? [Adding] we must take precautions that problems don't arise for her later" may indicate the intention to give the child up for adoption.
As neither the full name, nor the fate of the child are known, so far several theories about her life and death have been put forward:
• Michele Zackheim, in her book on "Lieserl", Einstein's Daughter, states that "Lieserl" was mentally challenged at birth, and that she lived with her mother's family and probably died of scarlet fever in September 1903.
• Another possibility, favoured by Robert Schulmann of the Einstein Papers Project, is that "Lieserl" was adopted by Marić's close friend, Helene Savić, and was raised by her and lived under the name "Zorka Savić" until the 1990s. Savić did in fact raise a child by the name of Zorka, who was blind from childhood and died in the 1990s. Her grandson Milan Popović rejects the possibility that it was "Lieserl", and also favors the theory that the child died in September 1903.
2. Hans Albert Einstein
(May 14, 1904 – July 26, 1973) was a Swiss-American engineer and educator, and the second child and first son of Albert Einstein and Mileva Marić. He is best known for his research on sediment transport. Hans Albert Einstein's papers are held at the Water Resources Collections and Archives in the University of California, Riverside Libraries.
Hans Albert Einstein was born in Bern, Switzerland, where his father worked as a clerk in the patent office. His father was of German-Jewish descent and his mother Serbian. His younger brother, Eduard Einstein, was born in 1910 and died in 1965. The fate of his older sister, Lieserl Einstein, Albert Einstein's and Mileva Marić's first child, is unknown. Their parents divorced in 1919 after living apart for five years.
In 1927 he married Frieda Knecht. Albert Einstein disapproved of Frieda much as his parents had of Mileva. Hans Albert and Frieda had five children — Bernhard Caesar (1930–2008) was a physicist, and engineer. Klaus Martin (1932–1938) died of diphtheria. Two subsequent boys died several days after their birth. They adopted a daughter, Evelyn (1941–2011), soon after her birth. Frieda died in 1958, and Hans Albert later married Elizabeth Roboz (1904–1995).
Hans Albert followed his father's footsteps and studied at ETH, the Swiss Federal Institute of technology, in Zurich, Switzerland. In 1926 he was awarded the diploma in civil engineering. From 1926 to 1930 he worked as a steel designer on a bridge project in Dortmund. In 1936 Hans Albert obtained the doctor of technical science degree. His doctoral thesis "Bed Load Transport as a Probability Problem" is considered the definitive work on sediment transport.
Hans Albert's father, Albert Einstein, left Germany in 1933 to escape the virulently antisemitic Nazi threat. Heeding his father's advice, Hans Albert emigrated from Switzerland to Greenville, South Carolina in 1938. He worked for the US Department of Agriculture, studying sediment transport from 1938 to 1943. He continued working for the USDA at the California Institute of Technology starting in 1943. In 1947 Hans Albert took a position as associate professor of hydraulic engineering at the University of California, Berkeley. He continued his career advancing to full professor, and later professor emeritus. As an authority in his field, Hans Albert traveled the world to participate in hydraulic engineering conferences. He was at a symposium at Woods Hole in Massachusetts when he collapsed and died from a sudden cardiovascular event.
He was an avid sailor, frequently taking colleagues and family out for excursions on the San Francisco Bay. On his many field trips and academic excursions, he took thousands of pictures, many of which he developed himself and presented as slide shows. He also loved music and played flute and piano.
Honors
In tribute to Einstein's lifelong contributions to the field, his former graduate students published a book of research in his honor in 1972, Sedimentation: Symposium to Honor Professor H.A. Einstein.
The University of California also awarded him the title Professor of Hydraulic Engineering, Emeritus
In 1988, the American Society of Civil Engineers created the Hans Albert Einstein Award to recognize outstanding achievements in erosion control, sedimentation and/or waterway development.
3. Eduard Einstein
(28 July 1910 – 25 October 1965) was born in Zürich, Switzerland, the second son of physicist Albert Einstein and his first wife Mileva Marić. Einstein and his family moved to Berlin in 1914, but shortly thereafter Marić returned to Zürich, taking Eduard and his brother with her.
Eduard was a good student and had musical talent. He started to study medicine to become a psychiatrist, but by the age of twenty he was afflicted with schizophrenia and institutionalized two years later for the first of several times. It is speculated that he was overdosed with drugs and harmed by the many "cures" that were used at the time. According to his brother Hans Albert Einstein, the thing that ruined him was the electric shock treatments.
After his illness struck, Eduard told his father that he hated him. Einstein never saw his son again for the rest of his life. Albert and Eduard, whom Albert fondly referred to as "Tete," corresponded previous to and after Eduard became ill, and continued after Albert Einstein's emigration to the United States.
Eduard remained interested in music and art, wrote poetry, and was a Freud enthusiast - so much that he hung a picture of Freud on his bedroom wall.
His mother cared for him until she died in 1948. From then on Eduard lived most of the time at the psychiatric clinic Burghölzli in Zurich, where he died of a stroke at age 55. He is buried at Hönggerberg-Cemetery in Zurich. His family lineage has been used to raise public awareness of schizophrenia.
Ilse Lowenthal Einstein (1897–1934)
died in Paris, France at the age of 37 after a long illness. The most startling revelation of the COLLECTED PAPERS OF EINSTEIN (published by Princeton U Press) is that in the spring of 1918, Einstein considered breaking off his engagement to his cousin Elsa Einstein and marrying her 20-year-old daughter, Ilse, instead.
Albert Einstein's personal life was marked by a streak of callousness and aloofness. Nowhere is that more evident than in the strange letter, dated May 25, 1918, that Ilse Einstein sent to her close friend Georg Nicolai, a doctor, well-known antiwar crusader and Einstein family friend, with the words, ''Please destroy this letter immediately after reading it'' scrawled across the top in big letters. At the time Einstein, who had moved to Berlin four years earlier to take a lucrative appointment to the Prussian Academy of Sciences and become director of the newly formed Kaiser Wilhelm Institute of Physics, was 38 years old and in the process of divorcing Mileva, presumably so that he could marry his cousin Elsa. Ilse, the older of Elsa's two daughters, was serving as Einstein's secretary.
The letter was a plea for advice. In it Ilse related how a simple ''jest'' one afternoon had suddenly escalated into a serious proposal that Einstein marry her instead of her mother. Einstein, she said, had confessed that he loved her. Moreover her mother, she reported, was prepared to step aside, if that was what would make Ilse happy. ''Albert himself is refusing to take any decision; he is prepared to marry either Mama or me,'' Ilse wrote. ''I know that A. loves me very much, perhaps more than any other man ever will, he also told me so himself yesterday,'' she went on.
The feelings, however, were not quite reciprocal. Ilse loved Einstein like a father, she wrote, but she had no desire to be close to him physically. Her instinct, she confessed, was not to marry him. ''It will seem peculiar to you that I, a silly little thing of a 20-year-old, should have to decide on such a serious matter; I can hardly believe it myself and feel very unhappy doing so as well. Help me!''
There is no evidence that the relationship with Ilse was ever consummated. Einstein and Elsa were married the next year and remained husband and wife until her death in 1936. Ilse later married Rudolf Kayser, a writer and literary critic who subsequently wrote a biography of Einstein and with whom she wrote a biography of the great Jewish philosopher Spinoza. She died of tuberculosis in 1933.
Margot Lowenthal Einstein (1899-1986)
New York Times - Obituaries
Margot Einstein, 86, Is Dead; Stepdaughter of Physicist
Published: July 12, 1986
Margot Einstein, a sculptor who was the stepdaughter of Albert Einstein, the physicist who formulated the theory of relativity, died Tuesday at the home in Princeton, N.J., that she had long shared with her stepfather. She was 86 years old.
Miss Einstein was born in Germany, the daughter of Elsa Hoffman who, after the death of her husband, became Einstein's second wife. In 1930 Miss Einstein married Dr. Dmitri Marianoff, an assistant to Dr. Einstein. The marriage ended in divorce seven years later and Miss Einstein resumed her stepfather's name.
After following Einstein to the United States in 1934, she studied sculpture at Columbia University and, with her stepfather, became an American citizen in 1940. Her mother died in 1936.
Miss Einstein lived in a house on Mercer Street in Princeton with Dr. Einstein and his sister, Maja, who died in 1951, and subsequently with Helen Dukas, his aide and secretary, who died in 1982. Einstein died in 1955.
Einstein's brain was preserved after his death in 1955, but this fact was not revealed until 1978.
Albert Einstein's brain has often been a subject of research and speculation. Einstein's brain was removed within seven hours of his death. The brain has attracted attention because of Einstein's reputation for being one of the foremost geniuses of the 20th century, and apparent regularities or irregularities in the brain have been used to support various ideas about correlations in neuroanatomy with general or mathematical intelligence. Scientific studies have suggested that regions involved in speech and language are smaller, while regions involved with numerical and spatial processing are larger. Other studies have suggested an increased number of Glial cells in Einstein's brain.[1]
Preservation
Einstein's brain was removed, weighed and preserved by Thomas Stoltz Harvey, the pathologist who performed the autopsy on Einstein. He claimed he hoped that cytoarchitectonics would reveal useful information.[2] Harvey injected 10% formalin through the internal carotid arteries and afterwards suspended the intact brain in 10% formalin. Harvey photographed the brain from many angles. He then dissected it into about 240 blocks (each about 1 cm3) and encased the segments in a plastic-like material called collodion.[3][4] Harvey also removed Einstein's eyes, and gave them to Henry Abrams.[2] He was fired from his position at Princeton Hospital shortly thereafter for refusing to relinquish the organs.
Scientific studies
Harvey noticed immediately that Einstein had no parietal operculum in either hemisphere. Photographs of the brain show an enlarged Sylvian fissure; clearly Einstein's brain grew in an interesting way. In 1999, further analysis by a team at McMaster University in Hamilton, Ontario, Canada revealed that his parietal operculum region in the inferior frontal gyrus in the frontal lobe of the brain was vacant. Also absent was part of a bordering region called the lateral sulcus (Sylvian fissure). Researchers at McMaster University speculated that the vacancy may have enabled neurons in this part of his brain to communicate better. "This unusual brain anatomy...(missing part of the Sylvian fissure)... may explain why Einstein thought the way he did," said Professor Sandra Witelson who led the research published in The Lancet. This study was based on photographs of Einstein's brain made in 1955 by Dr. Harvey, and not direct examination of the brain. Einstein himself claimed that he thought visually rather than verbally. Professor Laurie Hall of Cambridge University commenting on the study, said, "To say there is a definite link is one bridge too far, at the moment. So far the case isn't proven. But magnetic resonance and other new technologies are allowing us to start to probe those very questions".[5]
Scientists are currently interested in the possibility that physical differences in brain structure could determine different abilities.[5] One part of the operculum called Broca's area plays an important role in speech production. To compensate, the inferior parietal lobe was 15 percent wider than normal.[6] The inferior parietal region is responsible for mathematical thought, visuospatial cognition, and imagery of movement.
Disputed consent
Whether Einstein's brain was removed and preserved after his death in 1955 with his permission is a matter of dispute. Ronald Clark's 1979 biography of Einstein said that "he had insisted that his brain should be used for research and that he be cremated", but more recent research has suggested that this may not be true at all, and that the brain was removed and preserved with neither Einstein's prior permission nor the permission of his close relatives (Einstein, Walter Isaacson). Hans Albert Einstein, the physicist's son, agreed to the removal after the event but insisted that his father's brain should be used only for research to be published in scientific journals of high standing.[2]
In 1978, Einstein's brain was rediscovered in the possession of Dr. Harvey by journalist Steven Levy.[7] The brain sections had been preserved in alcohol in two large mason jars within a cider box for over 20 years.
Study finding more glial cells in Einstein's brain
In the 1980s, University of California, Berkeley professor Marian C. Diamond persuaded Thomas Harvey to give her samples of Einstein's brain. She compared the ratio of glial cells in Einstein's brain with that in the preserved brains of 11 men. (Glial cells provide support and nutrition in the brain, form myelin, and participate in signal transmission.) Dr. Diamond's laboratory made thin sections of Einstein's brain, each 6 micrometers thick. They then used a microscope to count the cells. Einstein's brain had more glial cells relative to neurons in all areas studied, but only in the left inferior parietal area was the difference statistically significant. This area is part of the association cortex, regions of the brain responsible for incorporating and synthesizing information from multiple other brain regions.
Diamond admits a limitation in her study is that she had only one Einstein to compare with 11 normal men. S. S. Kantha of the Osaka BioScience Institute in Japan criticized Diamond's study, as did Terence Hines of Pace University.[2] Other issues related to Diamond's study point out glial cells continue dividing as a person ages and although Einstein's brain was 76, it was compared to a group who averaged 64 in age. Additionally there is little or no information regarding the samples of brains that Einstein's brain was compared against such as IQ score, neurological diseases or other relevant factors. Diamond also admitted that research disproving the study was omitted.[8]
Brains of other geniuses
Preserving the brains of geniuses was not a new phenomenon—another brain to be preserved and discussed in a similar manner was that of the German mathematician Carl Friedrich Gauss almost a hundred years earlier. His brain was studied by Rudolf Wagner who found its weight to be 1,492 grams and the cerebral area equal to 219,588 square millimeters.[9] Also found were highly developed convolutions, which was suggested as the explanation of his genius.[10] Other brains that were removed and studied include that of Vladimir Lenin[11] and the Native American, Ishi. The brain of Edward H. Rulloff, philologist and "criminal of superior intelligence," was removed after his death in 1871; in 1972, it was still the second largest brain on record.[12]
SEE ALSO
Relics: Einstein's Brain
, a 1994 documentary by Kevin Hull
References
1. Fields, R. Douglas (2009). The Other Brain: From Dementia to Schizophrenia. New York: Simon & Schuster. p. 7. ISBN 978-0-7432-9141-5
2. a b c d NPR: The Long, Strange Journey of Einstein's Brain
3. The Exceptional Brain of Albert Einstein – BIOQUANT LIFE SCIENCE. Lifescience.bioquant.com. Retrieved on 2011-05-16.
4. Why Einstein's Brain? by Marian Diamond
5. a b "Why size mattered for Einstein". BBC News. 1999-06-18. Retrieved 2010-04-23.
6. Robert Lee Hotz, Revealing thoughts on gender and brains, Los Angeles Times, July 3, 2005
7. StevenLevy.com » I Found Einstein's Brain
8. Edmonds, Molly. (2008-10-27) Discovery Health "Marian Diamond and Albert Einstein's Brain". Health.howstuffworks.com. Retrieved on 2011-05-16.
9. Donaldson, Henry H. (1891). "Anatomical Observations on the Brain and Several Sense-Organs of the Blind Deaf-Mute, Laura Dewey Bridgman". The American Journal of Psychology (E. C. Sanford) 4 (2): 248–294. doi:10.2307/1411270. JSTOR 1411270. the reference says: "Gauss, 3000 grm. 957 grm. 219588. sq. mm. ", i.e the unit is square mm. In the later reference: Dunnington (1927), the unit is erroneously reported as square cm, which gives an unreasonably large area. See Carl Friedrich Gauss discussion page for additional info.
10. Dunnington, 1927
11. Gregory, Paul R. (2007-12-31). Lenin's Brain and Other Tales From the Secret Soviet Archives. Hoover Institution Press. p. 24. ISBN 0-8179-4811-2. Retrieved 2008-10-28.
12. New York Times, Nov. 7, 1972, p. 37
External links
* "The Long, Strange Journey of Einstein's Brain", NPR special
* Bill Toland (April 17, 2005). "Doctor kept Einstein's brain in jar 43 years". Pittsburgh Post-Gazette.
* "Why size mattered for Einstein". BBC News Online. June 18, 1999.
* Levitt JG, Blanton RE, Smalley S et al. (July 2003). "Cortical sulcal maps in autism". Cereb. Cortex 13 (7): 728–35. doi:10.1093/cercor/13.7.728. PMID 12816888.
* "Einstein and Newton 'had autism'". BBC News Online. 30 April 2003.
* Siobhan Roberts (November 14, 2006). "A Hands-On Approach to Studying the Brain, Even Einstein's". The New York Times.
* Albert Einstein's Brain and Information-theoretic Death
* Possessing Genius. The Bizarre Odyssey of Einstein's Brain. A book by Carolyn Abraham.
* Driving Mr. Albert: A Trip Across America with Einstein's Brain. A book by Michael Paterniti.