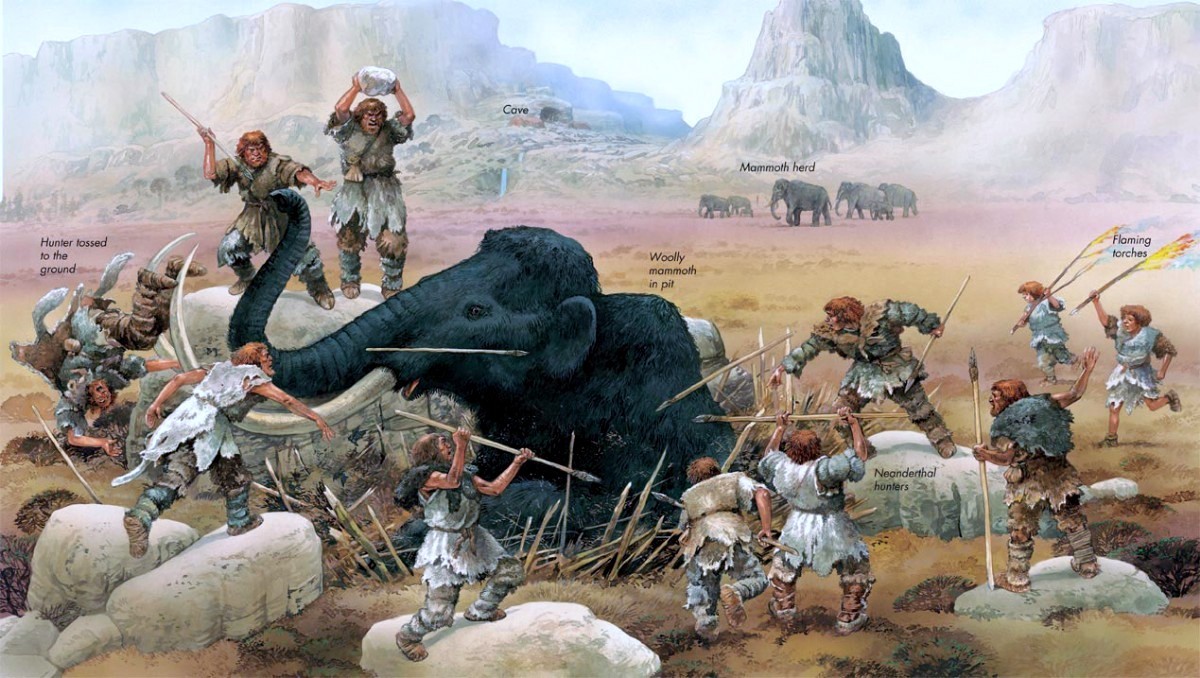 6 Important Ideas About Neanderthals
1. Sophisticated Tool-making
The Levallois technique is a name given by archaeologists to a distinctive type of stone knapping developed by precursors to modern humans during the Paleolithic period. It is named after nineteenth century finds of flint tools in the Levallois-Perret suburb of Paris, France. The technique was more sophisticated than earlier methods of lithic reduction, involving the striking of flakes from a prepared core. A striking platform is formed at one end and then the core's edges are trimmed by flaking off pieces around the outline of the intended flake. This creates a domed shape on the side of the core, known as a tortoise core as the various scars and rounded form are reminiscent of a tortoise's shell. When the striking platform is finally hit, a flake separates from the core with a distinctive plano-convex profile and with all of its edges sharpened by the earlier trimming work. This method provides much greater control over the size and shape of the final flake which would then be employed as a scraper or knife although the technique could also be adapted to produce projectile points known as Levallois points.
STONE TOOL-MAKING TOOK BRAINS, NOT BRAWN:
https://www.youtube.com/watch?v=CkGfphs4DX4
2. Did Neanderthals invent the world's first industrial process? (from PBS's NOVA website)
At some archeological sites, the Neanderthals subjected sticky substances to an elaborate process. Birch bark contains a tacky resin known as pitch that is impossible to extract simply by tapping into the tree, as with pinesap or maple syrup. Instead, the pitch must be separated from the bark by a process known as dry distillation. Chemists have discovered that distilling pitch from birch bark requires an oxygen-free environment and sustained temperatures of over 650° F. How could Neanderthals, with their Stone Age technology, have produced such conditions? If they really did master this complex process, it is hard to resist the conclusion that they must have had language and a sophisticated ability to think and plan ahead.
Evidence indicates that they successfully developed such a technique. The first discovery was made in 1963 at Kínigsaue, in then-East Germany. This was the site of an ancient lakeside hunting camp, from which Neanderthals had hunted now extinct Ice Age creatures such as mammoth and woolly rhino as well as red deer, horses, and reindeer. Two small, hardened lumps of black material were found during the dig, one bearing a fingerprint and the other the impression of a wooden haft or handle.
In 2001, the lumps were dated to at least 40,000 years ago and were shown to have the chemical signature of birch bark pitch produced by the dry distillation process. Much older evidence was found at the Campitello quarry in central Italy. Here, the remains of an extinct elephant lay close to two large lumps of black pitch, which covered the end of two stone flakes crafted in a typical Neanderthal style. The Campitello find dates back over 200,000 years, a remarkably early origin for this complex process. A third Neanderthal site at Inden-Altdorf, overlooking the Inde River in Germany and dating to around 128,000 to 115,000 years ago, features more than 80 stone tools flecked with black material, but the chemical analysis indicating that this was distilled pitch requires further confirmation.
But the archaeologists at Inden-Altdorf found an important clue: upon analyzing the pitch smeared on Neanderthal tools at the site, they detected traces of potassium, sulfur, and calcium, evidence that the material had been directly exposed to fire and ash during its manufacture. After some practical experiments, the team proposed that the Neanderthals had invented the following procedure: first, wrap a long strip of birch bark around a small pebble so that it forms a cigar-shaped roll. Next, dig a narrow pit, then set light to one end of the roll and place the burning end at the bottom of the pit. In the confined space at the bottom of the pit, the smoldering bark quickly uses up oxygen and causes the pitch to "sweat," or condense, out of the roll of bark onto the surface of the pebble. While still hot, the pitch is a sticky liquid that can be used immediately as glue.
Simple though it sounds in theory, the technique is highly challenging in practice. Procuring pitch today with Stone Age methods obviously calls for careful attention and considerable skill and judgment. Too low a temperature, and the bark fails to produce any pitch; too high, and the bark becomes hard and brittle; with too much oxygen, the bark burns up. As the experimental tests have shown, the temperature of the fire must be constantly monitored in varying wind conditions, the birch bark must be buried correctly with oxygen excluded and removed from the fire at the right time. Archaeologist Wil Roebroeks, who witnessed Palmer's NOVA experiment, comments that its failure underscores the complexity of the process, which "goes to show that they [the Neanderthals] were very capable pyrotechnologists. We're still learning how they did it a quarter of a million years ago."
Roebroeks adds that the significance of the Neanderthal pitches should not be overblown. "After all, they were produced by hunter-gatherers who survived in western Eurasia for hundreds of thousands of years in a wide variety of environments, successfully exploiting a wide range of mammals and other resources...That they discovered a trick or two which we are unable to reproduce nowadays should not come as a surprise—unless of course one assumes that they were 'complete idiots,' lacking the flexibility and learning capacities of other primates."
While Roebroeks warns about making too much of the glue finds, for other archaeologists, the mere fact that Neanderthals could make multi-part tools and weapons argues that they were capable of planning in depth, coordinating several tasks at once, and conceptualizing past and future. No single category of evidence can decide the case for the status of the Neanderthal mind, but the intriguing story of birch bark pitch joins a growing list of discoveries that indicate we may have underestimated the closeness of our bond with our long-vanished relatives from the Ice Age.
NEANDERTHAL SUPER GLUE:
https://www.youtube.com/watch?v=Dv81adCRQ2s
3. FOSSILS, DNA, AND LANGUAGE
A. FOSSIL EVIDENCE:
1. Broca's area (or the Broca area) is a region in the frontal lobe of the dominant hemisphere (usually the left) of the hominin brain with functions linked to speech production.
2. An endocast is the internal cast of a hollow object, often specifically used for endocasts of the cranial vault. They compliment the use of MRI's and CAT scans to determine the shape and function of the brain within a skull.
B. GENETIC EVIDENCE:
1. FOXP2 (Forkhead box protein P2) is a protein that, in humans, is encoded by the FOXP2 gene and is required for proper development of speech and language.
2. Chromosomes are thread-like structures located inside the nucleus of animal and plant cells. Each chromosome is made of protein and a single molecule of deoxyribonucleic acid (DNA). Passed from parents to offspring, DNA contains the specific instructions that make each type of living creature unique. Segments of DNA that pass on these instructions are called genes.
Genes are segments of DNA. The twisted double backbone of the DNA "ladder is connected with four nitrogen-bas molecules that form rungs of the ladder. Those four molecules are ALWAYS connected C to G and A to T.
DNA, or deoxyribonucleic acid, is a very long, thin molecule that is in the nucleus of most of our body's cells. It is constructed like a ladder (also called a double helix). Each rung on the ladder consists of two smaller molecules and all the rungs are spaced apart equally. Although each rung has only two molecules, there are only four different kinds of molecules used in the rungs, so each rung has two of four different kinds of molecules. There are approximately 3,000,000,000 rungs on the DNA ladder.
Each one of the rungs on the DNA ladder is like a letter on the page of a book - it means something in combination with the other rungs. Taken together the rungs are a language and they describe various things, one of which is the chemical formulas for approximately 90,000 proteins and enzymes that are essential to our body:
"The human genome contains approximately 3 billion of these base pairs, which reside in the 23 pairs of chromosomes within the nucleus of all our cells. Each chromosome contains hundreds to thousands of genes, which carry the instructions for making proteins. Each of the estimated 30,000 genes in the human genome makes an average of three proteins."
(The Human Genome Project Completion: Frequently Asked Questions (National Human Genome Research Institute, 2010):
HTTPS://WWW.GENOME.GOV/11006943
Imagine that 3 billion Aces, 3 billion Kings, 3 billion Queens and 3 billion Jacks are all arranged in thousands of different groups. If these cards were arranged in groups of four in one long line that is four cards thick and 3 billion cards long, the line of cards would circle the world approximately 6 times.
3. Hybridization:
When our Homo sapiens ancestors first migrated out of Africa around 50,000 years ago, they were not alone. At that time, at least two other species of hominin cousins walked the Eurasian landmass—Neanderthals and Denisovans. As our modern human ancestors migrated through Eurasia, they encountered the Neanderthals and interbred. Because of this, a small amount of Neanderthal DNA was introduced into the modern human gene pool. Everyone living outside of Africa today has a small amount of Neanderthal in them, carried as a living relic of these ancient encounters. A team of scientists comparing the full genomes of the two species concluded that most Europeans and Asians have between 1 to 4 percent Neanderthal DNA. Indigenous sub-Saharan Africans have no Neanderthal DNA because their ancestors did not migrate through Eurasia.
4. ART AND RITUAL
An engraving found at a cave in Gibraltar may be the most compelling evidence yet for Neanderthal art. The pattern, which bears a passing resemblance to the grid for a game of noughts and crosses, was inscribed on a rock at the back of Gorham's Cave.
Mounting evidence suggests Neanderthals were not the brutes they were characterized as decades ago. But art, a high expression of abstract thought, was long considered to be the exclusive preserve of our own species. The scattered candidates for artistic expression by Neanderthals have not met with universal acceptance. However, the geometric pattern identified in Gibraltar, on the southern tip of Europe, was uncovered beneath undisturbed sediments that have also yielded Neanderthal tools. Details of the discovery by an international team of researchers has been published in the journal PNAS.
There is now ample evidence that Neanderthal intellectual abilities may have been underestimated. Recent finds suggest they intentionally buried their dead, adorned themselves with feathers, painted their bodies with black and red pigments, and consumed a more varied diet than had previously been supposed. One of the study's authors, Prof Clive Finlayson, director of the Gibraltar Museum, said the latest find "brings the Neanderthals closer to us, yet again".
Today, the sea is a short distance away, but when the cave was first inhabited, the shore was several kilometres away. Previous candidates for Neanderthal cave art exist, including motifs from caves in northern and southern Spain. Possible jewelry has been found at a site in central France, and there are even claims Neanderthals were responsible for an early musical instrument - a bone "flute" found at Divje Babe in Slovenia.
These proposed flickerings of abstract thought among our ancient relatives have all proven controversial. But the authors of the PNAS study went to great lengths to demonstrate the intentional nature of the Gorham's Cave design. In order to understand how the markings were made, experimental grooves were made using different tools and cutting actions on blocks of dolomite rock similar to the one at Gorham's cave. The method that best matched the engraving was one in which a pointed tool or cutting edge was carefully and repeatedly inserted into an existing groove and passed along in the same direction. This, the authors argue, would appear to rule out an accidental origin for the design, such as cutting meat or fur on top of the rock.
"[Dolomite] is a very hard rock, so it requires a lot of effort to produce the lines," he told BBC News. The archaeologist estimates that the full engraving would have required 200-300 strokes with a stone cutting tool, taking at least an hour to create. "If you did it in a single session, you would most probably injure your hand, unless you cover your tool with a piece of skin," he said.
Prof d'Errico explained that the rock was in a very visible location in the cave and that the engraving would have stood out to any visitors.
"It does not necessarily mean that it is symbolic - in the sense that it represents something else - but it was done on purpose," he said.
Clive Finlayson said team members deliberately avoided speculation in their scientific paper as they wanted it to be a "watertight" description of the discovery. But, he explained: "One intriguing aspect is that the engraving is at the point in the cave where the cave's orientation changes by 90 degrees. "It's almost like Clapham Junction, like it's showing an intersection. I'm speculating, but it does make you wonder whether it has something to do with mapping, or saying: 'This is where you are'."
Prof d'Errico added: "It's in a fixed location so, for example, it could be something to indicate to other Neanderthals visiting the cave that somebody was already using it, or that there was a group that owned that cave."
The researchers also carried out an analysis of the likely position of the person when they were making the engraving, and whether it was likely to have been made by a left- or right-hander, but they have decided not to publish these results for the time being.
The engraving was first spotted in July 2012 by Francisco Giles Pacheco, an eagle-eyed team member who is director of the Archaeological Museum of El Puerto Santa Maria, Spain.
Sediments covering the engraving have previously yielded stone tools made in the Mousterian style, which is considered diagnostic of Neanderthals. However, other researchers note that such artefacts turn up in North Africa, where there is no trace of habitation by Neanderthals. They have previously reasoned that if Homo sapiens made the Mousterian tools in Africa, they might also be responsible for the ones in Gibraltar.
Some 28km of sea separates Gibraltar from the coast of North Africa, and if you look south from the Rock on a clear day, it's hard to miss Jebel Musa - part of Morocco's Rif mountains - rising above the horizon. However, Prof Finlayson says there is no evidence that modern humans made the crossing until much later. In addition, he points out, Mousterian tools are associated with Neanderthal skeletal remains at the Devil's Tower site in Gibraltar.
Another possibility is that Neanderthals were imitating the behaviour of modern humans they'd come into contact with. While Homo sapiens was in Europe by around 45,000 years ago, Prof Finlayson says the moderns reached southern Iberia later than some other regions, casting doubt on the copycat idea.
But Dr Matt Pope, a Palaeolithic archaeologist at University College London, who was not involved with the latest study, was less convinced.
"The engravings do appear intentional and it's hard to easily envisage a purely functional explanation for them. Consequently it's useful to consider these structured scratches as deriving from abstract or symbolic thought," he told BBC News.
"But linking them directly to Neanderthal populations, or proving Neanderthals made them without any contact with modern humans is harder. The dates presented here are indirect, referring to material from within sediments covering the engravings and not the marks themselves.
"Given the dates also span a period when we know modern humans have reached Europe, a period where we have unresolved 'transitional' archaeological evidence difficult to attribute to either population, I'd be cautious in accepting Neanderthal authorship."
He added: "Certainly, the Gibraltar team have provided another piece of compelling, important evidence which will help bring this period into sharper focus and under deeper scrutiny." ©
Paul Ricon, Science Editor, BBC News,
http://www.bbc.com/news/science-environment-28967746
NEANDERTHAL ART:
http://www.bbc.com/news/science-environment-28967746
5. EXTINCTION THROUGH HYBRIDIZATION
Hypotheses on the fate of the Neanderthals include a failure or inability to adapt to climate change, competitive exclusion, or extinction by encroaching anatomically modern humans, who arrived in Europe long after Neanderthals had settled there. Neanderthal hybridization with early modern human populations is also considered a viable hypothesis. Some interbreeding took place in western Asia about 50,000 to 60,000 years ago, as evidenced by 1 to 4 percent of the material of genomes carried by non-African people living today.
Regionally developed ecotypes (such as European Homo neanderthalensis) can be threatened with extinction when new alleles or genes (such as those of Homo sapiens) are introduced to alter that ecotype. This is sometimes called genetic mixing. An allele is a variant form of a gene. Some genes have a variety of different forms, which are located at the genetic locus on a chromosome. Humans are called diploid organisms because they have two alleles at
each genetic locus, with one allele inherited from each parent. A locus (plural loci), in genetics, is the specific location or position of a gene on a chromosome. Each chromosome carries many genes; humans' estimated coding genes are 20,000—25,000, on the 23 different chromosome pairs.
Hybridization and introgression of new genetic material can lead to the replacement of local genotypes if the hybrids are more fit and have breeding advantages over the indigenous ecotype or species. These hybridization events can result from the introduction of non native genotypes by humans or through habitat modification, bringing previously isolated species into contact. Genetic mixing can be especially detrimental for rare species in isolated habitats, ultimately affecting the population to such a degree that none of the originally genetically distinct population remains.
WHY DID THE NEANDERTHALS GO EXTINCT:
http://insider.si.edu/2015/08/why-did-neanderthals-go-extinct/
6. WHAT DID WE GET FROM THE NEANDERTHALS?
Scientists have discovered a novel receptor, which allows the immune system of modern humans to recognize dangerous invaders, and subsequently elicits an immune response. The blueprint for this advantageous structure was in addition identified in the genome of Neanderthals, hinting at its origin. The presence of this receptor in Europeans but its absence in early humans suggests that it was inherited from Neanderthals.
Neanderthals probably lived many hundreds of thousands of years in Europe during which time they developed the HLA receptor that provided them with immunity against many pathogens. This means that different to our ancestors from Africa, the Neanderthals which were resident in Europe, carried this receptor on their immune cells. That was a "distinct evolutionary advantage," says an immunobiologist from the University of Bonn, who presumes that we modern humans in Europe owe this advantageous receptor to the Neanderthals.
Neanderthals and other extinct humans like the Denisovans might have endowed some of us with the robust immune systems we enjoy today, scientists now find. These genetic gifts might have helped our species as we expanded out of Africa, investigators added. Although we modern humans are the only surviving members of our lineage, others once roamed the Earth, including familiar Neanderthals and the newfound Denisovans, who lived in what is now Siberia. Genetic analysis of fossils of these extinct lineages has revealed they once interbred with our ancestors, with recent estimates suggesting that Neanderthal DNA made up 1 percent to 4 percent of modern Eurasian genomes and Denisovan DNA made up 4 percent to 6 percent of modern Melanesian genomes.
(Bottom line: When we examine ancient DNA from Africa, samples LACK the HLA receptors; when we examine samples from Europe and Asia, they contain the HLA receptor—probably inherited from Neanderthals, Denisovans, and a third species yet to be named (who also interbred with each other most likely.)