Our Human Journey: Sex in the Stone Age
The Institute of Human Origns
The Institute of Human Origins is a research center in The College of Liberal Arts and Sciences at Arizona State University, with faculty embedded within ASU's transdisciplinary School of Human Evolution and Social Change.
Founded in 1981 by Donald Johanson as a Berkeley, California-based nonprofit, IHO blended high-profile field and analytical research on the early human fossil record with public outreach programs promoting the scientists as the best interpreter of their research for the public. With strategic guidance and operational funding from a dedicated lay Board of Directors and in the wake of important fossil discoveries in eastern Africa (at Hadar and Olduvai Gorge), IHO quickly attained international leadership status in the field of paleoanthropology.
With its move to ASU in 1997, IHO added to its mission the training of the next generation of human origins scientists in the intellectually enriching environment of a major public metropolitan research university with a nationally ranked anthropology program.
In 2005, the Department of Anthropology at ASU was succeeded by the School of Human Evolution and Social Change, a transdisciplinary unit that fuses social and natural science research on the interactions among human biology, cultures, and societies from the distant past to the present day. Within SHESC, IHO faculty anchor an Evolutionary Anthropology research and training focus.
In November 2009, Professor Donald Johanson stepped aside as IHO Director to become Founding Director. Professor William Kimbel was appointed Director of IHO and Professor Curtis Marean became Associate Director. During Kimbel's tenure, IHO's research expanded from a core of traditional archaeology, geology, paleoanthropology, and zooarcheaology research to include genetic inquiry, primatology, and the emergence of human uniqueness. IHO researchers grew from six to 18 researchers, creating a synergy for understanding "how we became human" outside of traditional academic and scientific silos.
Beginning July 1, 2021, IHO welcomed a new director, Yohannes Haile-Selassie PhD. Haile-Selassie is one of the world's foremost experts in paleoanthropology, known for major fossil discoveries in the African Rift Valley and extensive scholarship in human origins.
The original IHO Board of Directors, formed in 1981, evolved into the IHO Research Council and Executive Board in 2016 and continues to play a central role in IHO's success. The Executive Board provides a guiding hand on strategic planning and, along with the Research Council, advances IHO's goals with financial support of operations and initiatives that lie outside of the university's sphere of funding. Critically, the Research Council and Executive Board help IHO reach a wide lay community of supporters who are dedicated to promoting the work of IHO scientists.
(c) https://iho.asu.edu/about/history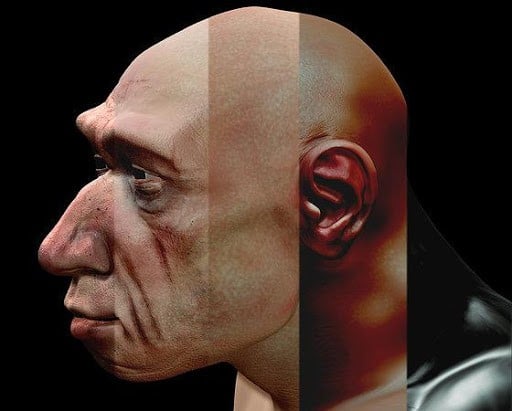 Our Hybrid DNA: Important Concepts and Names
1.
Denisovans or Denisova hominins
an extinct species of human in the genus Homo. In March 2010, scientists announced the discovery of a finger bone fragment of a juvenile female who lived about 41,000 years ago, found in the remote Denisova Cave in the Altai Mountains in Siberia, a cave which has also been inhabited by Neanderthals and modern humans. Two teeth and a toe bone belonging to different members of the same population have since been reported. Analysis of the mitochondrial DNA (mtDNA) of the finger bone showed it to be genetically distinct from the mtDNAs of Neanderthals and modern humans. Subsequent study of the nuclear genome from this specimen suggests that this group shares a common origin with Neanderthals, that they ranged from Siberia to Southeast Asia, and that they lived among and interbred with the ancestors of some present-day modern humans, with about 3% to 5% of the DNA of Melanesians and Aboriginal Australians deriving from Denisovans. DNA discovered in Spain suggests that Denisovans at some point resided in Western Europe, where Neanderthals were thought to be the only inhabitants. A comparison with the genome of a Neanderthal from the same cave revealed significant local interbreeding, with local Neanderthal DNA representing 17% of the Denisovan genome, while evidence was also detected of interbreeding with an as yet unidentified ancient human lineage. Similar analysis of a toe bone discovered in 2011 is underway, while analysis of DNA from two teeth found in layers different from the finger bone revealed an unexpected degree of mtDNA divergence among Denisovans. In 2013, mitochondrial DNA from a 400,000-year-old hominin femur bone from Spain, which had been seen as either Neanderthal or Homo heidelbergensis, was found to be closer to Denisovan mtDNA than to Neanderthal mtDNA.
2.
The Denisova Cave
is located in southwestern Siberia, in the Altai Mountains near the border with China and Mongolia. It is named after Denis, a Russian hermit who lived there in the 18th century. The cave was originally explored in the 1970s by Russianpaleontologist Nikolai Ovodov, who was looking for remains of cave bears. In 2008, Michael Shunkov from the Russian Academy of Sciences and other Russian archaeologists from the Institute of Archaeology and Ethnology of Novosibirsk investigated the cave. They found the finger bone of a juvenile hominin, dubbed the "X woman" (referring to the maternal descent of mitochondrial DNA) or the Denisova hominin. Artifacts, including a bracelet, excavated in the cave at the same level were carbon dated to around 40,000 BP. Excavations have since revealed human artifacts showing an intermittent presence going back 125,000 years. A team of scientists led by Johannes Krause and Svante Pääbo from the Max Planck Institute for Evolutionary Anthropology in Leipzig, Germany, sequenced mtDNA extracted from the fragment. The cool climate of the Denisova Cave preserved the DNA. The average annual temperature of the cave remains at 0 °C, which has contributed to the preservation of archaic DNA among the remains discovered. The analysis indicated that modern humans, Neanderthals, and the Denisova hominin last shared a common ancestor around 1 million years ago. The mtDNA analysis further suggested that this new hominin species was the result of an earlier migration out of Africa, distinct from the later out-of-Africa migrations associated with modern humans, but also distinct from the earlier African exodus of Homo erectus. Pääbo noted that the existence of this distant branch creates a much more complex picture of humankind during the Late Pleistocene. This work shows that the Denisovans were actually a sister group to the Neanderthals, branching off from the human lineage 600,000 years ago, and diverging from Neanderthals, probably in the Middle East, 200,000 years later. Later in 2010, a second paper from the Svante Pääbo group reported the prior discovery, in 2000, of a third upper molar from a young adult, dating from about the same time (the finger was from level 11 in the cave sequence, the tooth from level 11.1). The tooth differed in several aspects from those of Neanderthals, while having archaic characteristics similar to the teeth of Homo erectus. They performed mitochondrial DNA analysis on the tooth and found it to have a sequence different from but similar to that of the finger bone, indicating a divergence time about 7,500 years before, and suggesting that it belonged to a different individual from the same population. In 2011, a toe bone was discovered in the cave, in layer 11, and therefore contemporary with the finger bone. Preliminary characterization of the bone's mitochondrial DNA suggests it belonged to a Neanderthal, not a Denisovan. The cave also contains stone tools and bone artifacts made by modern humans, and Pääbo commented: "The one place where we are sure all three human forms have lived at one time or another is here in Denisova Cave."
3.
INTERBREEDING
. A detailed comparison of the Denisovan, Neanderthal, and human genomes has revealed evidence for a complex web of interbreeding among the lineages. Through such interbreeding, 17% of the Denisova genome represents DNA from the local Neanderthal population, while evidence was also found of a contribution to the nuclear genome from an ancient hominin lineage yet to be identified, perhaps the source of the anomalously ancient mtDNA. Analysis of genomes of modern humans show that they mated with at least two groups of ancient humans: Neanderthals (more similar to those found in the Caucasus than those from the Altai region) and Denisovans. Approximately 4% of the DNA of non-African modern humans is shared with Neanderthals, suggesting interbreeding. Tests comparing the Denisova hominin genome with those of six modern humans – a ǃKung from South Africa, a Nigerian, a Frenchman, aPapua New Guinean, a Bougainville Islander and a Han Chinese – showed that between 4% and 6% of the genome of Melanesians (represented by the Papua New Guinean and Bougainville Islander) derives from a Denisovan population. This DNA was possibly introduced during the early migration to Melanesia. These findings are in concordance with the results of other comparison tests which show a relative increase in allele sharing between the Denisovan and the Aboriginal Australian genome, compared to other Eurasians and African populations; however, it has been observed that Papuans, the population of Papua New Guinea, have more allele sharing than Aboriginal Australians.
4.
Svante Pääbo
is a Swedish biologist specializing in evolutionary genetics. One of the founders of paleogenetics, he has worked extensively on the Neanderthal genome. Born in Stockholm, 20 April 1955, Pääbo is the son of Estonian chemist Karin Pääbo and biochemist Sune Bergström. Growing up with his mother, he barely knew his father, who shared the Nobel Prize in Physiology or Medicine with Bengt I. Samuelsson and John R. Vane in 1982. He earned his PhD from Uppsala University in 1986. Since 1997, he has been director of the Department of Genetics at the Max Planck Institute for Evolutionary Anthropology in Leipzig, Germany. Pääbo is known as one of the founders of paleogenetics, a discipline that uses the methods of genetics to study early humans and other ancient populations. In 1997, Pääbo and colleagues reported their successful sequencing of Neanderthalmitochondrial DNA (mtDNA), originating from a specimen found in Feldhofer grotto in the Neander valley. In August 2002, Pääbo's department published findings about the "language gene", FOXP2, which is lacking or damaged in some individuals with language disabilities. In 2006, Pääbo announced a plan to reconstruct the entire genome of Neanderthals. In 2007, he was named one of TIME Magazine's 100 most influential people of the year. In February 2009, at the Annual Meeting of the American Association for the Advancement of Science (AAAS) in Chicago, it was announced that the Max Planck Institute for Evolutionary Anthropology had completed the first draft version of the Neanderthal genome. Over 3 billion base pairs were sequenced in collaboration with the 454 Life Sciences Corporation. This project, led by Pääbo, will shed new light on the recent evolutionary history of modern humans. In March 2010, Pääbo and his coworkers published a report about the DNA analysis of a finger bone found in the Denisova Cave in Siberia; the results suggest that the bone belonged to an extinct member of the genus Homo that had not yet been recognized, the Denisova hominin. In May 2010, Pääbo and his colleagues published a draft sequence of the Neanderthal genome in the journal Science. He and his team also concluded that there was probably interbreeding between Neanderthals and Eurasian (but not African) humans. There is growing support in the scientific community for this theory of admixture between archaic and anatomically-modern humans, though some archaeologists remain skeptical about this conclusion. In 2014, he published the book Neanderthal Man: In Search of Lost Genomes where he in the mixed form of a memoir and popular science tells the story of the research effort to map the Neanderthal genome combined with thought on human evolution. In 1992, he received the Gottfried Wilhelm Leibniz Prize of the Deutsche Forschungsgemeinschaft, which is the highest honour awarded in German research. Pääbo was elected a member of the Royal Swedish Academy of Sciences in 2000. In October 2009 the Foundation for the Future announced that Pääbo had been awarded the 2009 Kistler Prize for his work isolating and sequencing ancient DNA, beginning in 1984 with a 2,400-year-old mummy. In June 2010 the Federation of European Biochemical Societies awarded him the Theodor Bücher Medal for outstanding achievements in Biochemistry and Molecular Biology. In 2013, he received Gruber Prize in Genetics for ground breaking research in evolutionary genetics. ------- Svante Pääbo has developed techniques and approaches that allow DNA sequences from archaeological and paleontological remains to be determined. This has allowed ancient DNA from extinct organisms, humans, animals and pathogens to be studied. He determined a high-quality Neandertal genome sequence, allowing for the reconstruction of the recent evolutionary history of our species and the realization that Neandertals contributed DNA to present-day humans who live outside Africa. By studying DNA sequences from a small Siberian bone he discovered Denisovans, a previously unknown hominin group distantly related to Neandertals. He also works on the comparative and functional genomics of humans and apes, particularly the evolution of genetic features such as the FOXP2 'speech and language' gene that may underlie aspects of traits specific to humans. Svante Pääbo has received several honorary doctorates and scientific prizes and is a member of numerous academies. He is currently a Director at the Max-Planck Institute for Evolutionary Anthropology in Leipzig, Germany.
5.
DNA.
In all animals, DNA is found in two places: In the nucleus of every cell (except red blood cells, which contain no nucleus or DNA and therefore cannot be affected by viruses) and in mitochondria, small organelles that act as the "batteries" which power individual cells. The 46 chromosomes in a human cell are actually long strands of DNA that have segments called genes. The DNA in a nucleus and the DNA in mitochondria together form the genome of a person/organism.
6.
HOMININ vs. HOMINID
• Hominid – the group consisting of all modern and extinct Great Apes (that is, modern humans, bonobos, chimpanzees, gorillas, and orangutans plus all their immediate ancestors).
• Hominin – the group consisting of modern humans, extinct human species and all our immediate ancestors (including members of the genera Homo, Australopithecus, Paranthropus and Ardipithecus).
• Great apes—species in the biological family Hominidae, including humans, bonobos, chimpanzees, gorillas, and orangutans.
Recommended Reading & Viewing