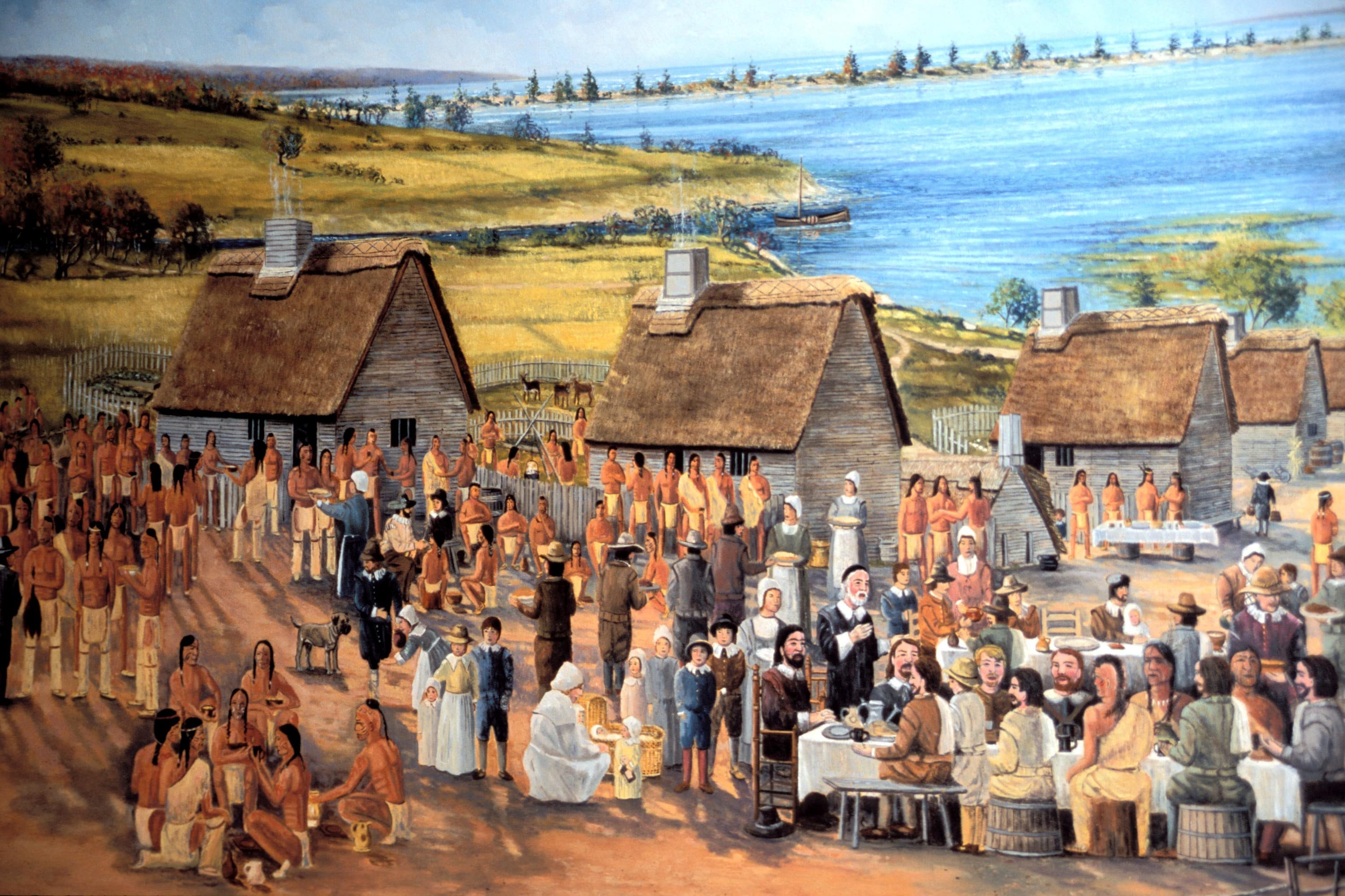 On the fourth Thursday of November every year, countless millions of Americans gather around the table--and the television--to enjoy a banquet, football, and the Macy's Thanksgiving Day Parade. It's a tradition that goes back decades. But it wasn't always so. If you explore the links on this page, you'll discover that first sport-famished, non-Santa, un-apple-pie Thanksgiving in the early 17th century was quite different from what we celebrate today. You'll see how that straight-forward feast among early colonials and indigenous peoples was transformed into the most widely celebrated event in our country, a day on which more Americans travel than any other holiday. We'll explore regional traditions, folklore, music, and even a few recipes.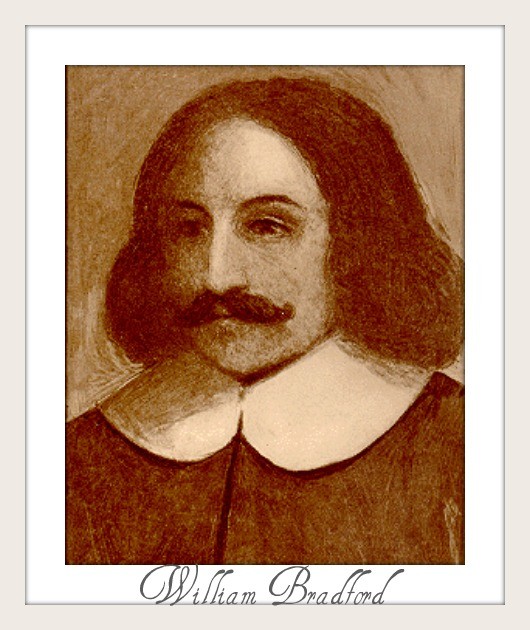 William Bradford: Of Plymouth Plantation
"They began now to gather-in the small harvest they had, and to fit up their houses and dwellings against winter, being all well recovered in health and strength and had all things in good plenty. For as some were thus employed in affairs abroad, others were exercised in fishing, about cod and bass and other fish, of which they took good store, of which every family had their portion. All the summer there was no want; and now began to come in store of fowl, as winter approached, of which this place did abound when they can be used (but afterward decreased by degrees). And besides waterfowl there was great store of wild turkeys, of which they took many, besides venison, etc. Besides, they had about a peck of meal a week to a person, or now since harvest, Indian corn to the proportion. Which made many afterwards write so largely of their plenty here to their friends in England, which were not feigned but true reports."
Edward Winslow: The Journal of the Plantation at Plymouth
"Our harvest being gotten in, our governor sent four men on fowling, that so we might after a special manner rejoice together after we had gathered the fruits of our labor. They four in one day killed as much fowl as, with a little help beside, served the company almost a week. At which time, amongst other recreations, we exercised our arms, many of the Indians coming amongst us, and among the rest their greatest king Massasoit, with some ninety men, whom for three days we entertained and feasted, and they went out and killed five deer, which we brought to the plantation and bestowed on our governor, and upon the captain and others. And although it be not always so plentiful as it was at this time with us, yet by the goodness of God, we are so far from want that we often wish you partakers of our plenty."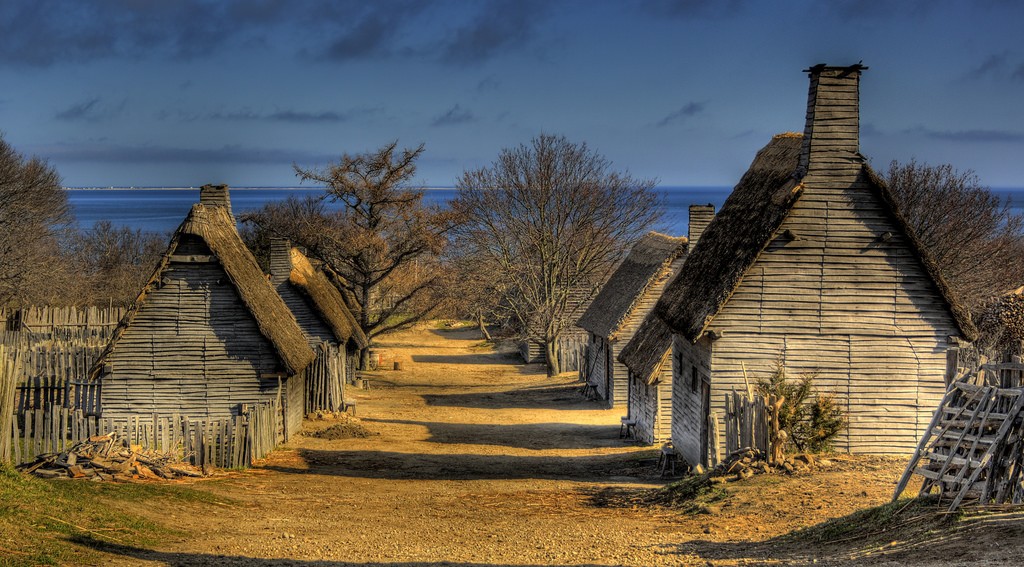 Prayers of thanks and special thanksgiving ceremonies are common among almost all religions after harvests and at other times. The Thanksgiving holiday's history in North America is rooted in English traditions dating from the Protestant Reformation. It also has aspects of a harvest festival, even though the harvest in New England occurs well before the late-November date on which the modern Thanksgiving holiday is celebrated.
In the United States, the modern Thanksgiving holiday tradition is traced to a sparsely documented 1621 celebration at Plymouth in present-day Massachusetts, and also to a well recorded 1619 event in Virginia. The 1621 Plymouth feast and thanksgiving was prompted by a good harvest. Pilgrims and Puritans who began emigrating from England in the 1620s and 1630s carried the tradition of Days of Fasting and Days of Thanksgiving with them to New England. The 1619 arrival of 38 English settlers at Berkeley Hundred in Charles City County, Virginia, concluded with a religious celebration as dictated by the group's charter from the London Company, which specifically required "that the day of our ships arrival at the place assigned ... in the land of Virginia shall be yearly and perpetually kept holy as a day of thanksgiving to Almighty God."
Several days of Thanksgiving were held in early New England history that have been identified as the "First Thanksgiving", including Pilgrim holidays in Plymouth in 1621 and 1623, and a Puritan holiday in Boston in 1631. According to historian Jeremy Bangs, director of the Leiden American Pilgrim Museum, the Pilgrims may have been influenced by watching the annual services of Thanksgiving for the relief of the siege of Leiden in 1574, while they were staying in Leiden. Now called Oktober Feesten, Leiden's autumn thanksgiving celebration in 1617 was the occasion for sectarian disturbance that appears to have accelerated the pilgrims' plans to emigrate to America. Later in Massachusetts, religious thanksgiving services were declared by civil leaders such as Governor Bradford, who planned the colony's thanksgiving celebration and fast in 1623. The practice of holding an annual harvest festival did not become a regular affair in New England until the late 1660s.
Thanksgiving proclamations were made mostly by church leaders in New England up until 1682, and then by both state and church leaders until after the American Revolution. During the revolutionary period, political influences affected the issuance of Thanksgiving proclamations. Various proclamations were made by royal governors, John Hancock, General George Washington, and the Continental Congress, each giving thanks to God for events favorable to their causes. As President of the United States, George Washington proclaimed the first nationwide thanksgiving celebration in America marking November 26, 1789, "as a day of public thanksgiving and prayer to be observed by acknowledging with grateful hearts the many and signal favours of Almighty God."
TIMELINE:
15,000 BCE --1500 CE: Native Americans celebrated harvest and gratitude festivals for thousands of years.

1500's: French and Spanish celebrated days of giving thanks (religious days of prayer) and harvest festivals as early as the 1500's.

1610: Commonwealth of Virginia: Jamestown first celebrates a day of "giving thanks" in 1610.

1600's: Thanksgiving became a regular festival in Massachusetts Bay Colony as early as 1630--and definitely after 1680. Associated with Harvest. A day of prayer.

1777: First National Proclamation of Thanksgiving (to "adore the superintending Providence of Almighty God") was written by Samuel Adams and then adopted by the Continental Congress.

Late 1700's: There were various Thanksgiving Proclamations during the first thirty years of our nationhood.

1789: On October 3, George Washington, made the first National Decree for a day of Thanksgiving. "Now therefore I do recommend and assign Thursday the 26th day of November next to be devoted by the People of these States to the service of that great and glorious Being, who is the beneficent Author of all the good that was, that is, or that will be."

1770's--early 1800's: Several Thanksgiving proclamations: George Washington, 1795; John Adams, 1798 and 1799; James Madison, twice in 1815 (after the close of the War of 1812)

By 1858, proclamations appointing a day of thanksgiving were issued by governors of 25 states and 2 territories.

1863: Abraham Lincoln--prompted by editorials written by Sarah Josepha Hale, proclaimed a national Thanksgiving Day (capital letters) to be celebrated on the final Thursday in November 1863. It has been celebrated annually in the US ever since.

1939: CONTOVERSY! FDR broke with tradition. November had five Thursdays in 1939, so Roosevelt declared Thanksgiving on the fourth Thursday (rather than the final Thursday) to give merchants still suffering the effects of the Depression an extra week for Christmas sales. Republicans decried the change, calling it an affront to the memory of Lincoln. 23 States went along with FDR, 23 did not, and Texas and Colorado couldn't decide, so they took BOTH Thursdays as federal holidays.

1941: The issue was resolved by Congress, and on December 26--probably as a morale booster after Pearl Harbor--FDR signed a law that made Thanksgiving a federal holiday celebrated on the 4th Thursday of November.
THANKSGIVING TRADITIONS:
1. Charity:
The poor are often provided with food at Thanksgiving time. Most communities have annual food drives that collect non-perishable packaged and canned foods, and corporations sponsor charitable distributions of staple foods and Thanksgiving dinners. The Salvation Army enlists volunteers to serve Thanksgiving dinners to hundreds of people in different locales. Additionally, pegged to be five days after Thanksgiving is Giving Tuesday, a celebration of charitable giving.
2. Thanksgiving Dinner:
In the United States, certain kinds of food are traditionally served at Thanksgiving meals. Turkey, usually roasted and stuffed (but sometimes deep-fried instead), is typically the featured item on any Thanksgiving feast table, so much so that Thanksgiving is colloquially known as "Turkey Day." In fact, 45 million turkeys were consumed on Thanksgiving Day alone in 2015. With 85 percent of Americans partaking in the meal, that's an estimated 276 million Americans dining on the festive poultry, spending an expected $1.05 billion on turkeys for Thanksgiving in 2016. Mashed potatoes with gravy, sweet potatoes, cranberry sauce, sweet corn, various fall vegetables, squash, and pumpkin pie are commonly associated with Thanksgiving dinner. Green bean casserole was introduced in 1955 and remains a favorite. All of these are actually native to the Americas or were introduced as a new food source to the Europeans when they arrived. Turkey may be an exception. In his book Mayflower, Nathaniel Philbrick suggests that the Pilgrims might already have been familiar with turkey in England, even though the bird is native to the Americas. The Spaniards had brought domesticated turkeys back from Central America in the early 17th century, and the birds soon became popular fare all over Europe, including England, where turkey (as an alternative to the traditional goose) became a "fixture at English Christmases". The Pilgrims did not observe Christmas. As a result of the size of Thanksgiving dinner, Americans eat more food on Thanksgiving than on any other day of the year.
3. Spiritual Exercises:
Thanksgiving was founded as a religious observance for all the members of the community to give thanks to God for a common purpose. Historic reasons for community thanksgivings include the 1541 thanksgiving mass after the expedition of Francisco Vásquez de Coronado safely crossing the high plains of Texas and finding game, and the 1777 thanksgiving after the victory in the Revolutionary War Battle of Saratoga. In his 1789 National Thanksgiving Proclamation, President Washington gave many noble reasons for a national Thanksgiving, including "for the civil and religious liberty", for "useful knowledge", and for God's "kind care" and "His Providence". After President Washington delivered this message, the "Episcopal Church, of which President Washington was a member, announced that the first Thursday in November would become its regular day for giving thanks." After Washington, the only presidents to express a specifically Christian perspective in their proclamation have been Grover Cleveland in 1896, and William McKinley in 1900. Several other presidents have cited the Judeo-Christian tradition.
4. Parades:
Since 1924, in New York City, the Macy's Thanksgiving Day Parade is held annually every Thanksgiving Day from the Upper West Side of Manhattan to Macy's flagship store in Herald Square, and televised nationally by NBC. The parade features parade floats with specific themes, scenes from Broadway plays, large balloons of cartoon characters, TV personalities, and high school marching bands. The float that traditionally ends the Macy's Parade is the Santa Claus float, the arrival of which is an unofficial sign of the beginning of the Christmas season. It is billed as the world's largest parade. The oldest Thanksgiving Day parade, however, is the one that takes place in Philadelphia, Pennsylvania. Begun in 1920, Philadelphia's parade was long associated with Gimbels, a prominent Macy's rival, until that store closed in 1986. Founded in 1924, the same year as the Macy's parade, America's Thanksgiving Parade in Detroit is one of the largest parades in the country. The parade runs from Midtown to Downtown Detroit and precedes the annual Detroit Lions Thanksgiving football game. The parade includes large balloons, marching bands, and various celebrity guests much like the Macy's parade and is nationally televised on various affiliate stations. The Mayor of Detroit closes the parade by giving Santa Claus a key to the city.
There are Thanksgiving parades in many other cities, including:
Missouri Thanksgiving Day Parade (St. Louis, Missouri)

America's Hometown Thanksgiving Parade (Plymouth, Massachusetts)

Carrousel Parade (Charlotte, North Carolina)

Celebrate the Season Parade (Pittsburgh, Pennsylvania)

Sun Bowl Parade (El Paso, Texas)

Holiday Parade (Houston, Texas)

Thanksgiving Parade (Chicago, Illinois)

Santa Claus Parade (Peoria, Illinois), the nation's oldest, dating to 1887 and held the day after Thanksgiving

Parada de los Cerros Thanksgiving Day Parade (Fountain Hills, Arizona)

Parade Spectacular (Stamford, Connecticut) – held the Sunday before Thanksgiving so it doesn't directly compete with the Macy's parade 30 miles (48 km) away.
Most of these parades are televised on a local station, and some have small, usually regional, syndication networks; most also carry the parades via Internet television on the TV stations' websites.
5. American football:
American football is an important part of many Thanksgiving celebrations in the United States, a tradition that dates to the earliest era of the sport in the late 19th century. Professional football games are often held on Thanksgiving Day; until recently, these were the only games played during the week apart from Sunday or Monday night. The National Football League has played games on Thanksgiving every year since its creation. The Detroit Lions have hosted a game every Thanksgiving Day from 1934 to 1938 and again every year since 1945. In 1966, the Dallas Cowboys, who had been founded six years earlier, adopted the practice of hosting Thanksgiving games. The league added a third game in prime time in 2006, which aired on the NFL Network, then moved to NBC in 2012. The third game has no set site or team, providing an opportunity for all teams in the league to host a Thanksgiving game in the future.
For college football teams that participate in the highest level (all teams in the Football Bowl Subdivision, as well as three teams in the historically black Southwestern Athletic Conference of the Championship Subdivision), the regular season ends on Thanksgiving weekend, and a team's final game is often against a regional or historic rival, such as the Iron Bowl between Alabama and Auburn, the Civil War between Oregon and Oregon State, the Apple Cup between Washington and Washington State, and Michigan and Ohio State playing in their rivalry game. Most of these college games are played on the Friday or Saturday after Thanksgiving, but usually one or two college games are played on Thanksgiving itself. The lower divisions of the game, including all of Divisions II and III, the NAIA, club football and the rest of the Championship Subdivision (except the Ivy League, whose season ends before Thanksgiving). are in the midst of playoff tournaments over Thanksgiving weekend.
Some high school football games (which include some state championship games), and informal "Turkey Bowl" contests played by amateur groups and organizations, are frequently held on Thanksgiving weekend. Games of football preceding or following the meal in the backyard or a nearby field are also common during many family gatherings. Amateur games typically follow less organized backyard-rules, two-hand touch or flag football styles.
6. Other sports:
College basketball holds several elimination tournaments on over Thanksgiving weekend, before the conference season. Though golf and auto racing are in their off-seasons on Thanksgiving, there are events in those sports that take place on Thanksgiving weekend. In ice hockey, the Boston Bruins have played matinees on Black Friday since at least 1990. The NHL has played games on Thanksgiving, usually scheduling games involving Canadian teams (where Thanksgiving is celebrated in October).
7. Television:
While not as prolific as Christmas specials, which usually begin right after Thanksgiving, there are many special television programs transmitted on or around Thanksgiving, such as A Charlie Brown Thanksgiving, in addition to the live parades and football games mentioned above. In some cases, television broadcasters begin programming Christmas films and specials to run on Thanksgiving Day, taking the day as a signal for the beginning of the Christmas season.
8. Radio:
"Alice's Restaurant", an 18-minute monologue by Arlo Guthrie that is partially based on an incident that happened on Thanksgiving in 1965, was first released in 1967. It has since become a tradition on numerous classic rock and classic hits radio stations to play the full, uninterrupted recording to much fanfare each Thanksgiving Day, a tradition that appears to have originated with counterculture radio host Bob Fass, who introduced the song to the public on his radio show. Another song that traditionally gets played on numerous radio stations (of many different formats) is "The Thanksgiving Song", a 1992 song by Adam Sandler.
9. Turkey pardoning
: Since 1947, the National Turkey Federation has presented the President of the United States with one live turkey and two dressed turkeys, in a ceremony known as the National Thanksgiving Turkey Presentation. John F. Kennedy was the first president reported to spare the turkey given to him (he announced he didn't plan to eat the bird), and Ronald Reagan was the first to grant the turkey a presidential pardon, which he jokingly presented to his 1987 turkey (a turkey that would indeed be spared and sent to a petting zoo). The Presidential pardon is now an annual event.
© Adapted from several websites including Wikipedia, the History Channel, and the Smithsonian Channel